From the moment you enter your suite at the Qwest location, you can't help but notice the changes. White walls offer a crisp and clean backdrop for the contrasting black and red furnishing, creating an appealing modern atmosphere that is an integral part of the DelSuites experience.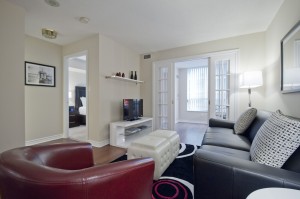 When it came time to plan the building's redesign, taking into consideration of the trends and needs of what our guests would like to see, "brighter suites with more colour," as well as clean lines that highlight the open-concept suites, was the team's top priority.
"This $.5 million transformation was necessary to meet the demands of clients who work in a fast-paced environment in the Entertainment District of Downtown Toronto.," explains Erin Conaty, Guest Services Manager, "we wanted to create an atmosphere that is consistent with that lifestyle."
For the redesign of the Qwest suites, Conaty enlisted the expertise of interior design firm Decorium, in order to create a theme that is consistent with the trendy Queen West neighbourhood.  Focusing on creating suites that appeal to contemporary-minded clients, elements that echoed a minimalist esthetic including floating shelving, are incorporated into the living space.
Building on a contrasting colour palette of black and white while injecting bold pops of deep red tones, the designer selected furniture that blended modern and classic pieces for a current yet relaxing living environment. In keeping with the clutter-free design, multi-functional pieces, such as the white ottoman cubes, were a must-have, providing additional seating for entertaining, while tucking away neatly when not in use.
The space saving closet organizers also increased the usable space for our guests.  Adding a finishing touch of spark to the living room, glass side table lamps also offer adjustable lighting, while modern chandelier fixtures add brightness to the dining area.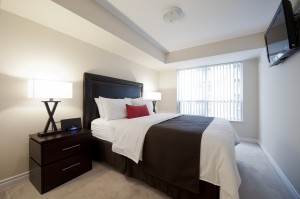 A distinct personality to each apartment, a series of black and white photographs of Toronto neighbourhoods and landmarks offer guests a visual tour of the city. "We wanted to share a little of Canada's history, but in a modern and contemporary way," offers Conaty.
"We are thrilled that this renovation is now 50% complete and we look forward to impressing our guests with an enhanced overall experience," said Dan Henderson, general manager. "This transformation has allowed us to evolve into a trendy relaxing home for our loyal business travelers and individual travelers alike."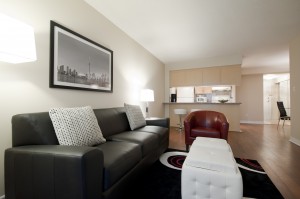 By blending modern design with classic elements, the team created a fresh and current style for Qwest that is reflective of its historic neighbourhood.  But even if modern living isn't on your radar, Qwest still offers options for guests who prefer a more classic style. Quite simply it's a thoughtful touch, one that adds to the welcoming atmosphere that's at the heart of the DelSuites experience.
To experience the new world of contemporary living at the Qwest building and find out about our rates, click here.