The holidays are a wonderful time of year to be enjoyed with friends, family, and loved ones. It can be a chance to relax and recharge, spend quality time with those closest to you, and exchange gifts. There are also many fun events happening in Toronto to bring out your holiday cheer.
Here are our recommendations for the best holiday events happening in Toronto this year
The Distillery Winter Village
Happening from November 18 to December 31st, the Distillery District turns into a beautiful Winter Village with everything you need to get you in the holiday spirit. From restaurants, food vendors, cute shops for buying gifts, photo walls for Instagrammable moments and more, it really is a one-stop shop for the holidays. You can purchase tickets online. We recommend ridesharing to the Winter Village as parking is limited around the area. 
Our DelSuite property, Ten York at Harbour Street and York Street is a perfect option when visiting the Distillery Winter Village with our short-term rental only a 10-minute car ride to the Distiller District.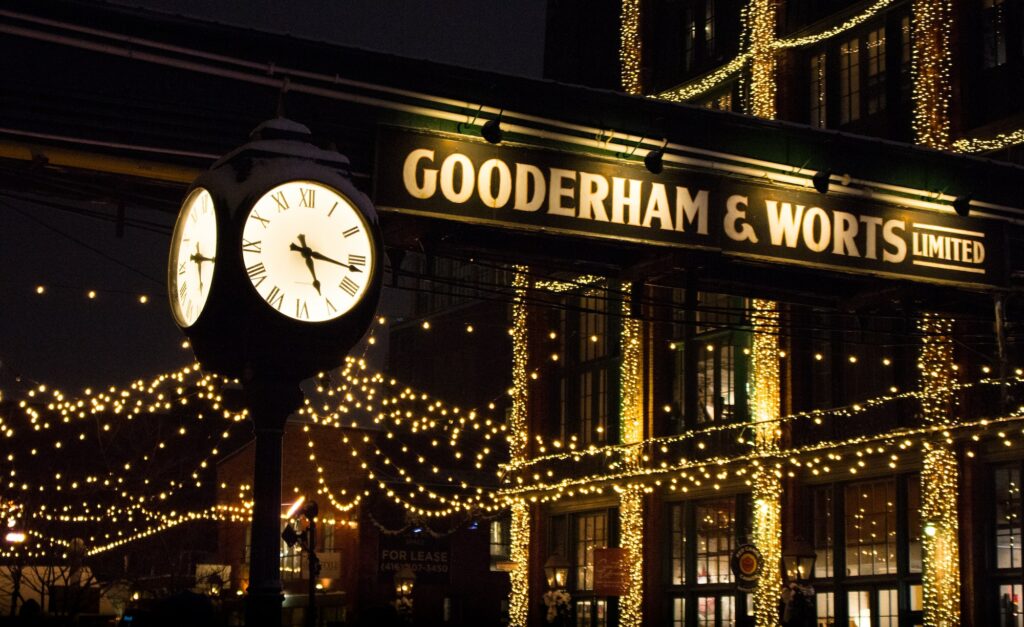 Canadian Tire Christmas Trail
Are you looking to enjoy an amazing light show all from the warmth and comfort of your own car? Happening from November 20th to December 4th, the Christmas Trail is a 1.5km journey that takes you through this beautiful driveway of bright lights and beautiful colours. The experience is great for families too as it has interactive activities for kids as well. Purchase tickets online ahead of time to reserve your spot.
Our DelSuite property, Alto At Atria at Victoria Park and Sheppard Ave is a great option for the Christmas Trail because it's close to the highway and only takes 20-minutes to get to the lit-up gates of the Christmas Trail. 
Cavalcade of Lights
Are you looking for a visual spectacle of glowing lights with beautiful, colourful art that you can walk through and enjoy with your friends or family? Nathan Philips Square showcases a dazzling wonderland of thousands of light bulbs as they light up the heart of downtown Toronto. Enjoy taking pictures of the glittering tree, public skating, or just walking around and enjoying the winter wonderland.
Our DelSuite property, The Livmore at Bay and Gerrard Street is less than a 10-minute walk away from City Hall, so when it gets busy around the area, you won't need to worry about calling for a ride or parking. 
Watching A Performance of The Nutcracker
If you are looking to enjoy more of a traditional holiday showcase, then how about a trip to the Opera? The Nutcracker by the National Ballet of Canada brings a cherished performance back to life for those to enjoy on a night out. The performance runs from December 10th to 31st and is a perfect date night for those who would like to sit back and appreciate a big, pronounced showcase of the holidays.
Our property Qwest, at Simcoe and Richmond Street, is only a 3-minute walk from the National Ballet Of Canada making it one of the shortest commutes in Toronto to enjoy the Opera. 
Ice Skating On The Bentway
If large public events and marketplaces aren't really your thing, then maybe something more low-key like public skating at The Bentway would be more your pace. It's a great way to spend a winter day, whether you're a figure skating pro or this is your very first time on the ice.
Our property Element, located at Blue Jays Way and Front Street is only a 6-minute car ride or 20-minute walk to The Bentway, giving you plenty of time to enjoy the skating without sitting in traffic. 
Toronto is a festive place to be during the holidays with many holiday events going on. Whether you want to enjoy them by walking around or experiencing them from the comfort of your own car, there are so many options to suit whatever you fancy. 
DelSuites has many properties close to these events so you can easily take part in the holiday festivities if you need or want to spend it in the city. Our fully furnished, short-term rentals make it easy and convenient for you to enjoy all that Toronto has to offer during the holiday season!
Looking for a 30+ day furnished rental in downtown Toronto and experiencing all of these great events? Start your search for furnished apartments in downtown Toronto today with DelSuites.