Searching for restaurant options when staying with DelSuites in North York is an easy, not to mention delicious opportunity for you to learn about the area.
When you find yourself living in a new place, such as the Avondale's location, knowing where to begin may be a task that's just too much to stomach. Before you scan the North York skyline for the nearest Golden Arches, wander the tree-lined streets this of friendly community and you'll quickly find Italian, French along with a multitude of exotic flavors, right outside your front door. As a guest of our furnished apartments, we offer up some local eateries that promise to satisfy your appetite without resorting to the standard fast food fare.
With private dining rooms for hosting small or large social functions, Auberge du Pommier (4150 Yonge Street), has been serving modern French cuisine for nearly three decades. Offering seasonally-inspired dishes, the restaurant recently added a $25 two-course lunch menu, which also makes it the perfect option whether you're dining with clients, family or friends.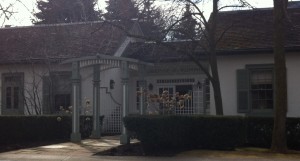 Nestled among tree-lined streets, your apartment at Avondale is the optimal destination offering the benefits of city life within a picturesque residential neighbourhood that you will be comfortable enough to call home. Whether you're sitting down for an intimate dinner, gathering for after-work drinks with friends or picking up take out, your next food adventure awaits within a dynamic North York neighbourhood.
For more information on our Avondale building and to learn about it's neighborhood amenities, click here.

Latest posts by delsuites (see all)