If you love shopping, Midtown, Toronto is where it's at. From enormous shopping malls to cute boutiques and much more, you'll find everything you could wish for in this area of the city.
There are several great shopping areas within a short distance from each other, so you can cover a lot in a day. You'll find all of the typical North American flagship brands, as well as luxury retailers and local boutiques with unique one-of-a-kind items. Put on your comfy shoes – there's a lot of ground to cover!
So, where should you start when shopping in Midtown Toronto? Let's take a look at the best shopping options in this part of the city.
Yonge Street is one of the most famous shopping streets in Toronto. It's a dynamic street lined with exciting things to see and do – whether you feel like shopping, catching a movie or heading to the theater.
Take a stroll down Yonge Street and you'll find a mix of chain stores from big name brands, as well as several unique storefronts that are home to unique local businesses. For example, there's the stylish shoes at Studio D, or the beautiful bohemian boutique Canopy Blue.
You can also check out That's Italy, where you can find elegant designer frocks for your next party. Afterwards, you can check in at Room 2046 to sip a latte and nibble a donut while you admire locally made jewellery and soaps. If you get hungry while shopping, there are several restaurants to check out – from luxurious sit-down dining to fast food outlets.
This is a great part of the city if you love discovering shops that are unique, quirky and one of a kind. Be sure to check it out on your travels in Toronto.
If you are looking for the big shopping mall experience in Midtown Toronto, this is the place to head. You'll find 70 retailers, including a wide range of brands such as Sephora, Indigo Books, Reitmans and more.
It's located across the street from the Canada Square Complex and it is connected to the Eglinton subway station via a lower level tunnel. It has everything you'll need – from groceries to gyms to liquor stores and convenience shops.
This bustling shopping centre has recently been renovated and the architecture is quite impressive – with columns of colour-changing LED lights and giant digital billboards. It feels futuristic and thriving and the centre often hosts events such as free rooftop yoga sessions (in the summer, of course!).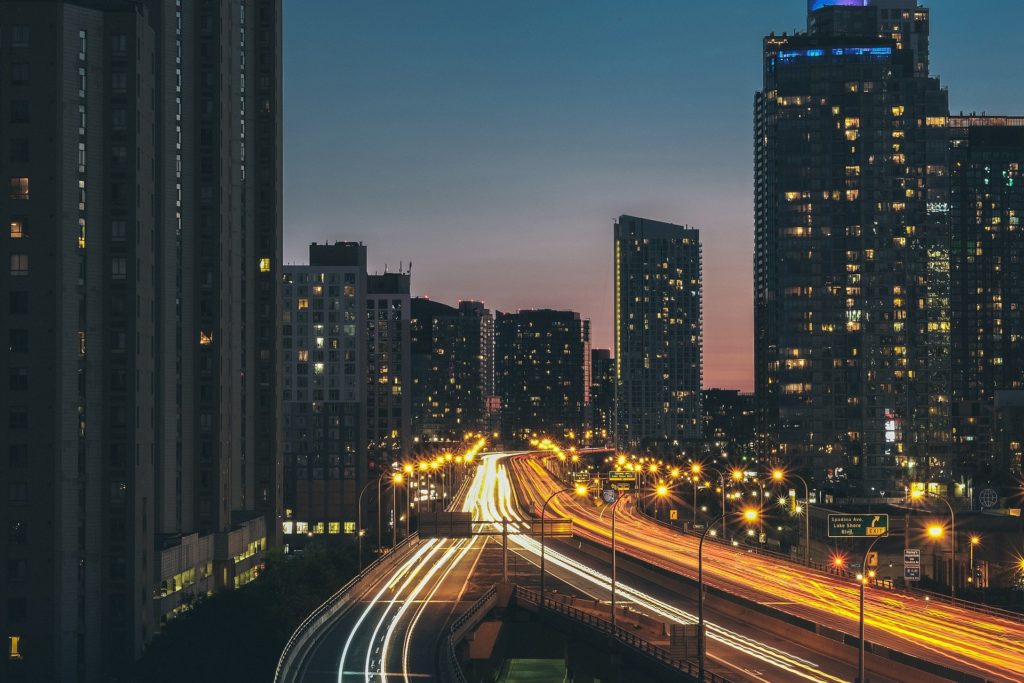 Another shopping mall in the area, Yorkville Village is located north of Bloor Street along Avenue Road. It was previously opened in 1976 as Hazelton Lanes, and fell into disrepair in the 1990s. It was redeveloped in 2011 and rebranded as Yorkville Village.
Yorkville Village has great options for shopping and food and it has been recently renovated, so it feels bright, spacious and modern. It's an upscale shopping experience and there are plenty of high end retailers such as TNT, Andrews, Bois et Cuir and Belstaff.
This is where to shop if you really love fashion and decor – and you want to pick up something unique and stylish. Also, the mall has a SoulCycle, so you can get your workout on with an energizing spin class to exciting music.
Plus, when it comes to fueling up after a busy day of shopping, the mall offers ELXR Juice Lab AND Mi'Hito Sushi Laboratory. Whatever those labs are experimenting with – it's likely to be pretty delicious.
Located on the corner of Bay and Bloor, this shopping centre is another great place to get your retail fix. The Manulife Centre is located on what's known as the "Mink Mile". It's an upscale shopping district in Yorkville, along Bloor Street between Avenue Road and Yonge Street. It's the most expensive place in Canada to lease retail space and is the 7th most expensive shopping street in the world. Essentially, the Mink Mile is the Fifth Avenue or Rodeo Drive of Canada.
The Manulife Centre is one of the tallest buildings in Toronto. Within this shopping centre, you'll find the Bloor Street market, as well as many great fashion brands such as Ron White Shoes, Petra Karthaus and De Catarina. There's also a GoodLife Fitness Centre, A Post Office, a Pharmacy and much more.
The good news? If the weather is terrible you can go straight through the underground tunnel from the Bloor and Yonge subway station and reach the mall without having to brave the cold!
These are just a few of the great places you can shop while staying at our midtown Toronto apartments. Click here to learn more about our short term apartment rentals in Midtown, Toronto. Our locations are accessible to great shopping, dining, nightlife and more.