DelSuites exists because we believe cities are communities—and the best hospitality, whether you're traveling, recovering from crisis, or new in town, is living right inside our community. In April 2020, COVID-19 made working together more important than ever. So when DelSuites heard about two chances to help our neighbours most in need—newcomers and Torontonians without homes—as DelSuites president Dan Henderson said, "We jumped at the opportunity."
All the Fundamentals for a Home
In April 2020, the City of Toronto embarked on a huge, life-saving effort to help Torontonians sleeping on streets and in shelters find safe temporary homes—and prevent the spread of COVID-19. The DelSuites team immediately reached out to Mayor John Tory, Deputy Mayor Ana Bailao, and city staff to see where our expertise could make a positive difference.
What City leadership told us they needed was the things that make a house into a home: our specialty.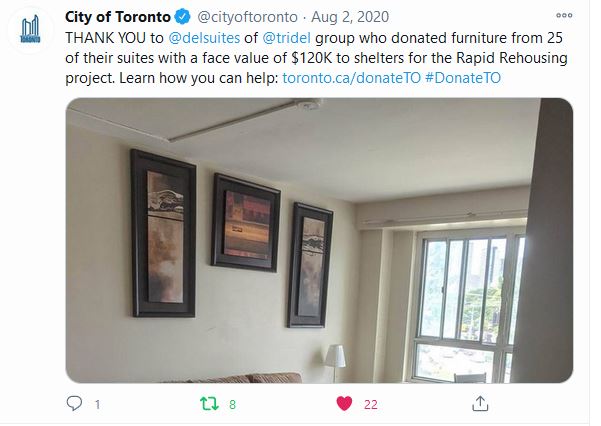 So in April 2020, DelSuites donated approximately 22-25 entire apartments' worth of furniture (valued at $120,000) to two programs: the emergency housing effort, and the Transitional Housing Program for Newcomers to Toronto, which temporarily hosts new Torontonians until they can find permanent homes.
Program participants will receive everything they need to not just use their new space, but leave the stress of not having a stable home behind. They'll walk in to find everything a home needs, from beds, couches, and kitchen tables to dish towels, sheets, and cutlery.
For newcomers to our city, we've contributed furniture that's theirs to keep when they move to their first permanent Toronto homes. Furniture can be a serious expense for families restarting their lives in a new country, and this substantial donation will let our new neighbours spend their first months here building bright futures, knowing their community is here for them.
For Torontonians without homes, we've donated full apartment sets of furniture to fill some of the 250 supportive housing units built. This pilot project is the first in a bold new approach to reducing homelessness in Toronto, and we've donated furniture that will turn the bare walls of a new house into the kind of comfort, security, and dignified style we'd all hope to come home to.
The modular units that opened in September 2020, people who started sleeping in shelters and on streets moved into permanent, stable housing—and can focus on health, happiness, and rebuilding their lives.
More recently in June 2021, DelSuites donated an additional 13 furnished suites with a face value of 55K to shelters,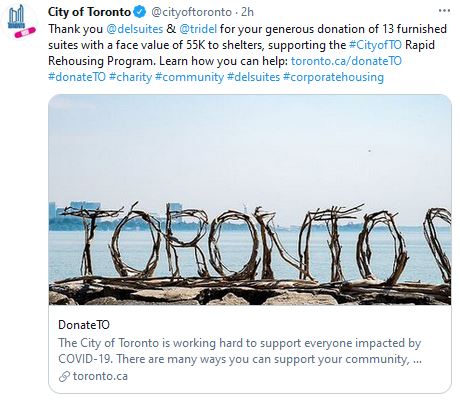 supporting the City of Toronto Rapid Rehousing Program
Every piece we've provided is durable, modern, stylish, and comfortable, so our neighbours can confidently open their new homes to friends and family—and keep that cycle of hospitality and stability going.
"Not only is it a worthy cause, but it's an important one. We need to do everything we can to give a comfortable accommodation experience to the people who need it the most in this time of crisis, we hope our contribution makes a difference to these families and our community." — Dan Henderson, President of DelSuites.
Living the Values of Hospitality
This past year has been a difficult time for the hospitality industry, but in hard times, communities pull together. DelSuites is proud to have partnered with the City of Toronto to help provide comfortable, stable homes for the people who need it most in our city.
We're glad to have the opportunity to make a positive impact, and underline the belief that's at the core of why we provide comfortable, community-based, flexible accommodations—homes away from home—every day of the week.
That a little thoughtfulness goes the extra mile, that a comfortable place to sleep at night matters, and that providing good hospitality starts at home—and as part of the community.