DelSuites Gives Back To Those In Need
In an era where economic uncertainty is the norm, you might find yourself increasingly mindful of where you spend your hard-earned money. You want to patronize businesses that offer more than just a service or product; you want to know that they are giving back and making a difference. At DelSuites, we share that sentiment wholeheartedly.
In this article, we'll give you a closer look at how our commitment to community service is as important as the quality accommodations we provide. From our donations to Haven Toronto and YWCA Toronto to extending our support to the Discalced Nuns of Carmel of the Infant Jesus, we aim to provide you with a luxurious and comfortable stay and make positive contributions to the community. 
Because when you choose to stay with us, you're not just securing a place to live; you're becoming part of a larger initiative to bring aid where it's needed most. Interested to know more? Let's delve into the ways your decision to stay with DelSuites can be a choice that benefits many.
Spreading Comfort and Care: Supporting The Discalced Nuns of Carmel of the Infant Jesus
At DelSuites, we believe in extending our hands to various corners of the community, even those that might not be immediately visible. Take, for example, the Discalced Nuns of Carmel of the Infant Jesus, a contemplative order serving the Archdiocese of Toronto. 
Although they lead a secluded life of silence and solitude, their prayers and sacrifices reverberate throughout the community, offering immeasurable spiritual and emotional support.
That's why we recently donated bath towels to their residence. These seemingly mundane items are everyday essentials that allow these dedicated women to focus more on their prayerful contributions. 
We recognize their selfless work, often without asking for anything in return, and we want to do our part to make their lives a bit easier.
So, when you choose to stay with DelSuites, know you're indirectly contributing to our ongoing efforts to give back. Your stay allows us to continue making a real difference in the lives of various community members, from those facing homelessness to spiritual caretakers like these devoted nuns.
A Special Day of Giving: DelSuites Visits Haven Toronto and YWCA Toronto
It was a day that meant more than just business for us at DelSuites. Dan Henderson, our President, and Justin Van Dette, Senior Director of Government Relations of Tridel, visited two cornerstone organizations providing indispensable services to those who need them most: Haven Toronto and YWCA Toronto.
We donated bath towels, hand towels, facecloths, shower curtains, and an assortment of bathroom amenities. These donations are more than just items; they are small luxuries offering a sense of normality and dignity to people going through some of the most challenging times.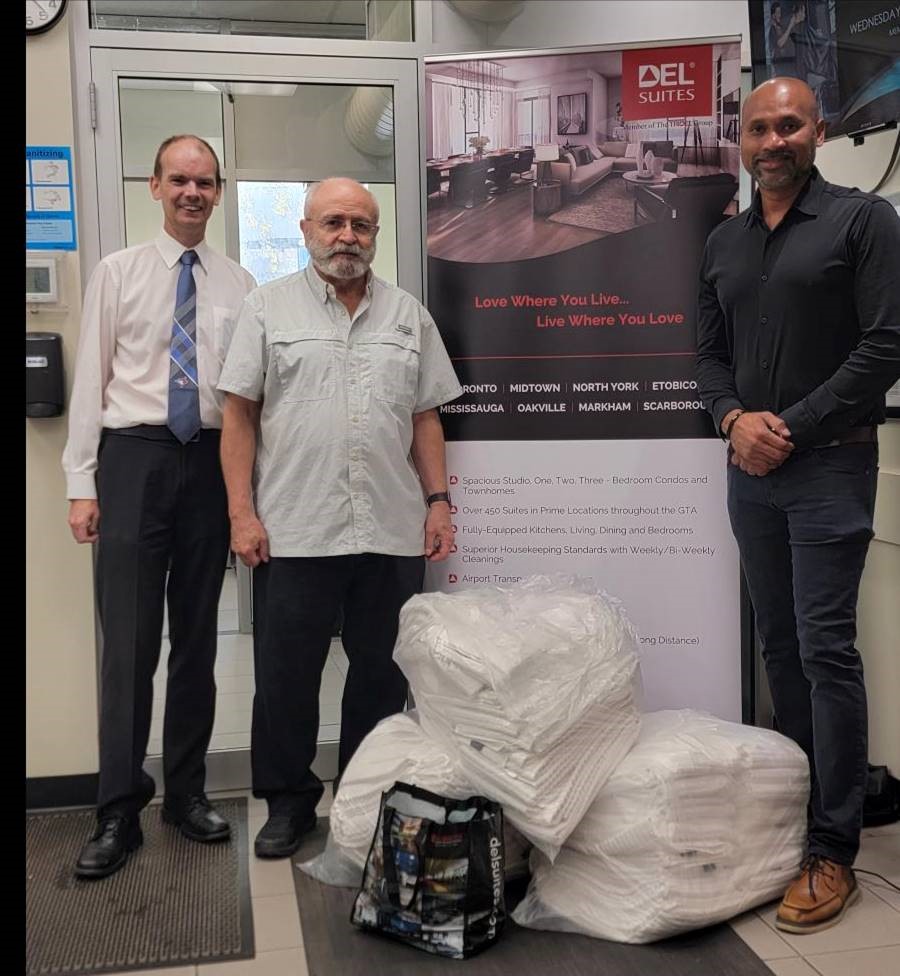 And the numbers speak for themselves—both Haven Toronto and YWCA Toronto have seen a significant rise in the number of people seeking help since the pandemic began.
At DelSuites, our collaboration with these incredible organizations doesn't end here. We are actively looking forward to more opportunities to lend a helping hand. Want to be a part of this journey? For more information or to contribute to these organizations, you can visit Haven Toronto and YWCA Toronto.
Your Comfort, Our Priority
When you choose DelSuites, you're investing in a home away from home. We take pride in offering furnished suites that serve as personal sanctuaries. Located across the Greater Toronto Area, from the hustle and bustle of downtown Toronto to the peacefulness of Markham and North York, we ensure you're never far from what you need. We've won the Consumers' Choice Award (CCA) in Executive Apartment Rental, but our real reward is seeing our guests genuinely relaxed and pleased with their stay.
But it's not just about comfortable living; it's also about the community we build and the world we share. That's why we donate gently-used furniture to Furniture Bank, providing basic home essentials for women, children, and families in need.
Why Choose DelSuites?
When searching for your next corporate housing in Toronto, you'll undoubtedly have a list of criteria. At DelSuites, we've tailored our services to meet and exceed your expectations. Here's what we offer:
Exceptional accommodations:

Our suites are designed for

comfort and functionality

, ensuring that your stay is nothing short of extraordinary.

Unparalleled service:

Our team is committed to providing top-notch service throughout your stay. Your comfort is our mission.

Continuous improvement:

We regularly upgrade our suites to meet the ever-changing needs of our clientele.

Community commitment

: As you've seen, choosing DelSuites means you're indirectly participating in our

various community initiatives

.

Sustainability focus:

Our commitment to reduce, reuse, and recycle significantly impacts the environment.
Conclusion: Making a Difference Together
As we draw to a close, let's recap the critical points: At DelSuites, we are not just a corporate housing provider; we are a community enabler. From our high-quality suites to unparalleled customer service and community outreach programs, we aim to make a difference in every aspect of your life and those around you.
We're committed to our mission of providing exceptional accommodations while also improving the lives of those less fortunate in our community. Whether supporting the spiritual work of the Discalced Nuns of Carmel of the Infant Jesus or contributing essential items to Haven Toronto and YWCA Toronto, every gesture counts.
If you want to make your next corporate housing decision meaningful, look no further. By choosing DelSuites, you're not just securing quality accommodations; you're becoming a part of something larger—a community that believes in giving back and enhancing lives.
So, why wait? Make your reservation today and step towards a stay that makes a difference. Your choice to stay with DelSuites is a choice that extends well beyond the four walls of a suite; it's a choice that benefits the community and, ultimately, the world at large.
Visit our website to explore how you can join our ongoing efforts to make a difference. Because at DelSuites, we believe that together, we can build a better tomorrow.