DelSuites Turns 20!
In October 2018, DelSuites turns 20 – reaching a milestone. Our company has been around for a full two decades. On the year DelSuites launched, Titanic was dominating at the Oscars, the first Apple iMac was released, the last episode of "Seinfeld" aired, and Brad Pitt and Jennifer Aniston were still a thing.
Crazy, huh?
Looking back over the years, we are incredibly grateful for all of the wonderful guests and clients we have been able to work with. It's a thrill DelSuites turns 20 and to be able to be part of the serviced apartment industry in Toronto and we've learned so much – so thank you.
We're also honoured by the awards that we have received over the last few years, including:
Oakwood Worldwide 2017 Partner Award – DelSuites had the highest guest satisfaction across their internal and client surveys. 'DelSuites always works diligently to serve our guests and their Guest Services jumps on the service issues if they arise. They are all around great suppliers to work with' – Oakwood Worldwide Employee.
TripAdvisor Certificate of Excellence (5 years running!)
CHPA (Best Green Progress) 2017 – The Best Green Progress Award recognizes a company exemplifying environmental responsibility and social performance through policies, plans and activities.
During the last 20 years, we've grown to become the largest serviced housing provider in Toronto with over 450 suites throughout the Greater Toronto Area. We are part of the Tridel Group of Companies, Canada's leader in condo living.
Not bad for a 20 year old!
What Will the Future Bring?
Like many 20 year olds out there, we feel like this is the beginning of our story and we are just getting started.
Here's what you can expect from us at DelSuites in the future:
Support for Causes We Believe In
From donating towels and linens to Anguilla to support hurricane relief efforts, to providing blankets and bed sheets for animals at the Toronto Humane Society, to donating linens and towels to a primary school in Jamaica, we have always made the effort to support causes that are close to our hearts. We will continue in the future, as this is really important to our company values.
Commitment to Sustainability
We will continue to care about the environment. In 2017, we combined offices with our sister company Del Condominium Rentals and underwent office renovations at Tridel's Head Office – to ensure that our working environment is sustainable as possible. We cut down our paper consumption by 75%, switched to LED light bulbs, implemented Eco Pens and made many other tweaks to reduce our carbon footprint.
Improving Customer Satisfaction
Our customers are really important to us, so we are always working to improve our customer satisfaction. We do this in a number of ways, including our Preventative Maintenance program that inspects suites regularly to keep them in tip-top shape. We've also launched our Guest Appreciation Program, where we thank our guests with a thoughtful gift and let them know how much we appreciate their business.
Cheers to another 20 years!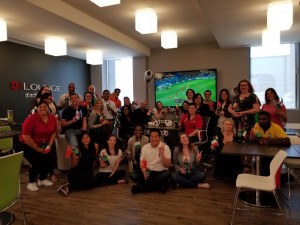 We are always looking to the future and thinking about how we can be the best company we can be… so we are pretty excited to see what the future will bring! Whether you've been with us since the beginning, or we have just met… we send a sincere "Thank You" your way. We couldn't do it without you!
Latest posts by delsuitesadmin
(see all)