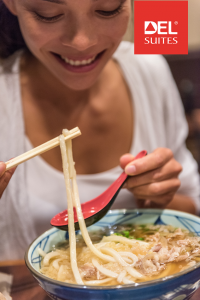 Downtown Toronto Restaurants – With such a multicultural population, there is a varied culinary landscape – you can take a trip around the world every time you go out to eat. Toronto's pubs and bars have also been elevating their menus, in order to attract drinkers with a discerning palate. There's something for every appetite and taste in this great city.
Here are a few great downtown Toronto restaurants to check out during your stay at the Livmore:
When you are craving a big, steaming, satisfying bowl of noodles – this is the place to go. This restaurant originated in Japan in the 1980s, when founder Hitoshi Hatanaka made a goal to create delicious ramen and dedicated himself to perfecting the recipe via trial and error. Santouka serves up rich, fatty broth with fresh, springy noodles and delicious pork cheek that just melts in your mouth ~ Only a 10 minute walk from The Livmore building.
This unique restaurant only buys whole animals, so the kitchen is always coming out with creative uses for the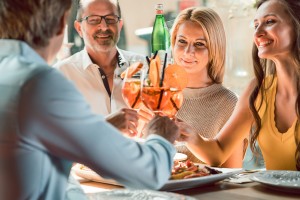 variety of off-cut meats. They are committed to local ingredients and they also make most things by hand – doing all of their butchery, curing, aging, fermenting and baking in house.
This means that everything they serve is delightfully fresh and expertly made. Stop by for lunch (13 minute walk from The Livmore) on a Saturday or Sunday and you can enjoy the Slow Roast – a mouth-watering joint that the team has left in the oven overnight.
After you've enjoyed the Toronto nightlife, you're going to want to treat yourself to a delicious late brunch the next morning at this downtown Toronto restaurants. Head to this stylish chain (8 minutes from The Livmore) which serves classic American breakfast fare.
It's a great way to start your day off right – with hand-squeezed juices and real-fruit smoothies and a mouthwatering selection of breakfast dishes – such as Breakfast Poutine with smoked bacon, homemade gravy and cheese curds, Maritime Lobster eggs benedict or a Montreal bagel with cream cheese and wild salmon.
Treat yourself to flavourful and spicy Nepalese and Indian cuisine at this local favourite. They have a Tandoor oven that gives the meat that irresistible smoky, oven-baked taste. Try the Goat Curry – cooked with ginger, garlic, tomatoes and hot spices. Or, share an "Everest Feast' with your friends – a huge platter that includes everything from Chicken Tikka to Tandoori Prawn to Naan, Basmati Rice and Dessert. Go for a stroll while staying at The Livmore – 21 minute walk from the Livmore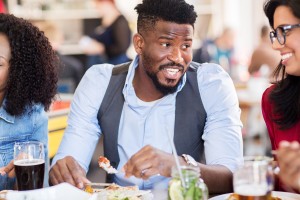 This family-run modern Mediterranean restaurant prepares classic pasta and meat dishes with fresh and high quality ingredients. It's also known for its cocktails and craft brews – and only a 3 minute walk from the Livmore
The Elm Tree is one of the most highly ranked restaurants in Toronto on TripAdvisor and it has a Certificate of Excellence, so if you are looking for somewhere to enjoy a special meal – it's a good bet.
What are some of your favourite downtown Toronto restaurants?
Let us know in the comments below – we always love getting new recommendations!
Latest posts by delsuitesadmin
(see all)