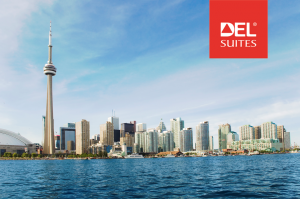 A visit to Toronto is a thrill – there is so much to discover in this exciting Canadian metropolis. Here are some very important things that you should know for first time Toronto visitors.
First Time Toronto Visitors : Make the Most of Public Transit
When you are visiting Toronto you will probably not want to rent a car, unless you want to be able to go on road trips outside of the city. Inside the city it is possible to get around quickly and easy using public transit. Plus, you will save money on parking fees and you will avoid getting stuck in rush hour. The city is a giant grid pattern, so it's pretty easy to navigate.
The transit system in Toronto includes subway lines, streetcars and buses and it will take you to anywhere in the city that you want to go, including well out into the suburbs. You can get a day pass for $12 that will allow you unlimited travel on all TTC services
Stay in a Serviced Furnished Apartment
Staying in an furnished apartment for first time Toronto visitors many advantages compared to staying in a hotel. You will have much more space to relax, a fully equipped kitchen so that you can cook your own meals and you will be able to use the building facilities such as swimming pool, fitness centre, bowling alley and much more. This is especially advantageous if you are travelling as a family or staying for a while.
No One Pronounces the Second T
The name of the city is pronounced "Torono" or "T'rana" by the locals. This is due to the Canadian accent, which causes the consonant between two unstressed vowels to be silent. If you pronounce the second T in Toronto it will be clear to all of the locals that you are not a Torontonian.
Don't Forget About Sales Tax
You will notice that the price tag of an item in the store doesn't always correspond to the final price when the cashier rings it up. That's because a 13% harmonized sales tax is added to almost all of the goods and services purchases in the province of Ontario. Sometimes purchases are tax exempt and some have the tax already built into the price, so if you aren't sure you can always ask the store staff to clarify.
If You Don't Like the Weather, Wait 20 Minutes
The weather in Canada is extreme and in Toronto it can fluctuate wildly, especially in the spring and fall. You might have a sunny morning, which turns into freezing cold rain by the afternoon. The weather in the summer is hot and humid and the winters are snowy and cold. Be prepared with many different layers so that you can adjust your clothing to the situation and do some research into the weather forecast before your trip.