Whether it's a new trade or going back to grad school, starting a college or university program is a major life decision—one you deserve to do at your own pace.
The new mix of online and on-campus classes—and more programs starting in January or May—can make finding Toronto student housing that much harder in a city where campus rentals usually happen for September. But if you're not sure about starting your program in-person, are worried about COVID safety, or just don't want to wait for September to start? DelSuites can help you bridge the gap for Toronto student housing—and let you study on your own schedule.
A space that puts studying first
DelSuites fully furnished apartment rentals are perfect for cutting out distractions—and putting your schoolwork first. Whether you're starting your course with us before moving into a permanent home or staying for a whole semester, you'll have a luxurious, roomy space with all the comforts of home.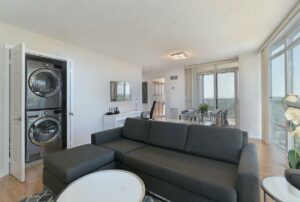 All our units come with all the kitchen tools you'll need—pots, pans, dishes, utensils, and more—as well as dishwashers and ensuite laundry equipment. We provide fresh linens and towels regularly, and our regular cleaning service helps you get through exams with a clean and comfortable home.
Every DelSuites rental is also fully outfitted with everything you need to work and play. High-speed wireless internet, US and Canadian long-distance calling, a full cable package, and all utilities are included in your rental. Our excellent building amenities let you get a workout in—whether you run, swim, or lift—and give you plenty of space for game nights, movies, or study groups.
Toronto student housing that's close to your campus
You might not live on-campus, but you can cut out the commute. DelSuites has locations all across Toronto and the greater GTA—and they're guaranteed to get you close to your classes and campus life.
Our downtown locations – The Livmore and Qwest – are just minutes' walk from the University of Toronto, Toronto Metropolitan University, George Brown College, and OCAD.
But our locations cover most of the colleges and universities throughout Toronto. Our Grand Ovation and Ultra Ovation locations are a ten-minute walk from Sheridan College. Hullmark Centre and Republic put you 25 minutes by transit from York University's Glendon campus. And at 360 at City Centre, you're just 15 minutes from Centennial College and University of Toronto Scarborough.
All our locations let you live in a comfortable, private space you can relax in, without missing out on campus life. It's a step up on Toronto student housing.
Everything you need to keep your move smooth
Multiple moves can be a huge stress—especially when you're juggling a class schedule at the same time. But DelSuites fully furnished Toronto apartments help you keep your move smooth, low-fuss, and stress-free.
Because our units are fully furnished, you don't have to pay movers to haul heavy furniture twice a year. It's a chance to travel lighter, save your money, and still live comfortably. And it also means that when you buy furniture, it can be what you'll love—instead of what's convenient now.
You'll also be able to move in confident that you won't be waiting days for the internet install. Everything you need in a DelSuites unit is ready when you walk through the door, and our all-inclusive rates also cut out the cost—and the paperwork—to install and transfer internet, phone, and hydro service.
Flexible enough to accommodate your schedule
If your program has a January start, you don't need to take a September lease to be in the right neighbourhood—or rush to find the rentals that are left. A DelSuites unit can accommodate you, no matter when your first day of class is. We make sure that instead of living uncomfortably—or putting off your program start—you can start your program now.
Our high-quality internet means you don't have to worry about COVID disruptions, distance learning or social distancing. If your classes go virtual for a week, a month, or a semester, you'll have a high-quality internet connection and a private space—and you'll still be near campus when it reopens.
Our flexible bookings policy means that if your study plans change for any reason, you can change your arrival date with no penalties—or figure out a checkout date that works with your new schedule.
With a DelSuites rental, you never have to worry about renegotiating or breaking a lease, finding a sublet, or negotiating with a landlord. You can plan your life, your way.
Housing that works for you
Instead of building your school schedule around your Toronto student housing, let's make your housing work for you. Whatever your study needs are, call us at 647-370-3504 or email info@delsuites.com to find out how we can help you start the next phase of your life now.