With the holiday season now in high gear, the mad retail rush has taken hold. And no matter what you're celebrating, you've likely already got your list written, it's just a matter of knowing where to begin. When you're staying in an unfamiliar city, navigating the best shopping spots can be a challenge, let alone finding those truly thoughtful gifts for family and friends. Here are four shopping hot spots that not only offer a host of unexpected gifts, but you'll also discover they provide a pleasant shopping experience too. As an added bonus, each shopping spot is easily accessible to our Qwest short term rental location.
The Drake General Store. With a carefully curated collection, the Drake General features an eclectic mix of lifestyle gifts including clothing, food and home décor. When you want to give an off-beat gift, you'll find something for just about anyone on your list from cozy pajamas for your nieces and nephews to comfy, handmade pillows for your best friend. With gift packs available at nearly every price point, it's also a great place to find a little something for colleagues or clients.
The Art Gallery of Ontario. While you may have caught the David Bowie exhibit this past fall,
you might not consider the Art Gallery of Ontario as a shopping destination; yet it is. From adult art enthusiasts to creative children, the AGO's gift shop is packed with inspiring gift ideas. Whether you're looking for contemporary art pieces for your spouse or art supplies for a pint-sized Picasso, be sure to put the AGO on your hot spot, shopping list.
Kensington Market.  From vintage finds to one-of-a-kinds, Toronto's Kensington Market includes a collective of local retailers, many of whom have been in business for generations. Here you'll find you can please your fashion-minded daughter with a few vintage accessories, along with that deliciously perfect item for the foodie on your list. And don't forget to check out the Festival of Lights, an annual event held on December 21st celebrating the ethnically diverse Market culture.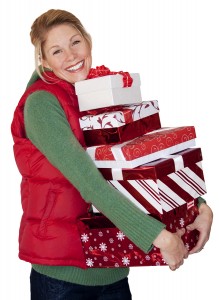 Hudson's Bay Company. Your holiday shopping is not complete until you've shopped at the Bay's Queen Street location. Here you'll find detailed, animated window displays that inspire the spirit of the season. While the number of high-quality brands are endless, the current Olympic collection will please the sport enthusiast on your list. The Hudson's Bay Company Collection, offers a selection of toys, blankets and clothing that provides a touch of pure Canadian heritage; making it all the more inviting to cozy up during a cold winter's night.