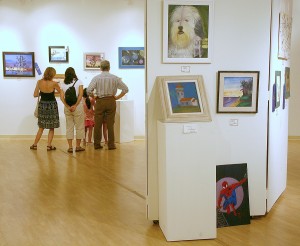 In recent years, Toronto has become a major center for culture. Centres funded by corporations such as the Four Seasons Center for Performing Arts or the Rogers Center, have been renovated or erected in recent years. However, you can experience culture, especially art, on a smaller scale in Toronto while on your extended stay. It is the smaller art galleries that may have some of the best and most local art out there. Here are some of our top picks of Art Galleries in Toronto:
1. Art Gallery of Ontario – Located in central downtown, the AGO is a nice walk from your downtown toronto apartments. In addition to one of the largest and most coveted Canadian collections (featuring the artwork of the members of the Group of Seven) as well as interesting and provocative exhibitions, the AGO holds interactive events every month such as First Thursdays and AGO Next (for members under 40). The AGO is also a regular venue for yearly festivals like Nuit Blanche. You can visit the gallery for free, after 5pm every Wednesday.
2. MOCCA, also known as the Museum of Contemporary Canadian Art. Here you will find it tucked away just west of Shaw St. in the heart of the Queen West Art and Design District with the large mural in the parking lot as a signpost. The murals are created for the Scotiabank CONTACT Photography festival every year. Inside, find thought-provoking exhibitions in its minimalist space. It is a must-stop on your Queen West art gallery crawl.
3. Angell Art Gallery – Jamie Angell was one of the pioneers in Queen West's art gallery development. His gallery is one of the most eponymous and sets the standard for daring and original artwork by risky artists locally. Check out the video installation in the back as you continue along Ossington and Queen Street West for art gallery, restaurant and bar pitstops.
4. Koffler Centre of the Arts is a dynamic contemporary art gallery providing exciting exhibitions, and programs (educational and beyond). The gallery fosters new work by Canadian and international artists and for those who reside in a short term rental in Downtown Toronto. The Qwest, Element, Icon, 300 Front and James Cooper Mansion buildings are a short drive away.
5. Dadashi Gallery – Check out original oil and acrylic paintings in addition to sculptures in North York. You can buy paintings as well as furniture and rugs at this hybrid retail space. If you're truly feeling inspired, art classes are available.
If you are staying in Toronto for an extended stay, art galleries in Toronto are a great way to check out the local culture and maybe even give you inspiration to decorate your temporary residence.

Latest posts by delsuites
(see all)