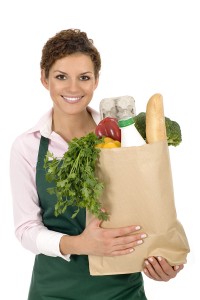 Sometimes, life gets so busy that there isn't time to grocery shop. Luckily, as a guest of DelSuites, you can take advantage of our grocery delivery services via Grocery Gateway.
Here are a few of the benefits that this service can offer you:
1. Saves you Time. If you are a busy professional and meetings take up most of your days (or nights), Grocery Gateway gives you the convenience of delivery to your executive suite. You can order items online or via phone with "DelSuites" as the password.
2. Convenience. In addition to your groceries being delivered straight to your suite, you can also choose the delivery date and time to suit your needs. Your order can be delivered as soon as the next day within a two hour window of your choice. Groceries can also be delivered prior to your arrival. Win win!
3. FREE delivery on your first order. As a guest of DelSuites, the $9.95 delivery fee is waived from your first order when you enter the promo code QTDS at checkout.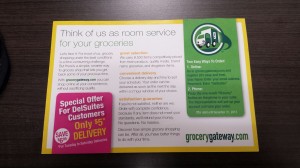 There are also specials on delivery fees from time to time. Please note that a minimum $45 order is required and 30% service charge added to regular purchases.
4. Healthy Options. With over 8,500 items, Grocery Gateway prides itself on giving you the choice of healthy options when you shop. Whether it's Healthy Planet Organic Juice or environmentally friendly soap product, Method, this grocery service doesn't skimp on quality or what on your values. Everything is also fresh when delivered to your door, and ordered directly from Longo's supermarket the day of your delivery.
5. Satisfaction Guaranteed. If you're not satisfied with your purchase, your money will be refunded.
Whether you're in town for vacation, or enjoying a short term rentals Toronto on a business trip, DelSuites has the amenities and grocery delivery services to make you feel at home.

Latest posts by delsuites
(see all)