Are you feeling antsy? You're not alone. Recent weeks under lockdown have left us feeling a range of emotions: grumpy, short-tempered, anxious—you name it.
The COVID-19 pandemic has left no aspect of life untouched. Whether it's restaurants, shopping malls, gyms, or camping grounds—all of our usual retreats are no longer available as outlets for us to release pent-up energy and feel recharged in the process. And with travel out of the question for the foreseeable future, a change of scenery has become a distant dream. 
People are feeling moody, unusually tired, and downcast. Alone time without distractions is difficult, if not impossible, to come by—especially with kids in the mix. For those of us who have considered sitting in the car for a couple of hours as a brief escape from life in isolation, we have a better solution—and it's called furnished suites. 
Furnished Suites: A Home Away From Home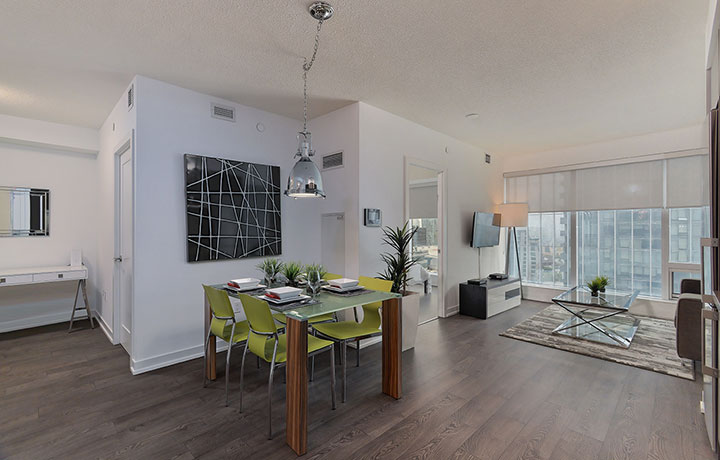 Renting a furnished condominium in the GTA is the perfect solution for those of us craving a change of scenery without straying too far from home. Treat it as a wellness retreat or a second home office—whatever the reason, a premium condo offers all the luxury of a hotel room without feeling impersonal. 
Taking care of your mental health should always be a top priority. In recent months, COVID-19 has cast a shadow over our lives. For many of us, the constant fear of infecting our loved ones has left its mark. If you find that your sleep patterns have shifted and concentrating is more difficult than usual, you're not alone. 
With a furnished and serviced condo, you're free to unwind in a space that's yours. Take a much-needed break from watching or reading the endless stream of pandemic-related news stories and reconnect with the activities that you enjoy. Whether your hobbies are creative writing, meditation, or yoga, you now have a silent space to indulge in what fulfills you.
Short-term rentals (or furnished suites) spare you the hassle of ownership while providing you with a home away from home. With prime locations across the GTA, DelSuites grants you access to premium accommodations with personalized services. With our meticulous standards for sanitization and flexible pricing and cancellation terms, you won't have a single worry on your mind. 
Striking the Ideal Work-Life Balance
In a matter of months, the COVID-19 outbreak has blurred the boundaries between work and home. At first glance, working from home seems like a breeze: no in-person oversight, the elimination of soul-crushingly long commutes, and a flexible work schedule that accommodates unexpected circumstances, such as taking care of a loved one who has fallen ill. But as many of us now know, working from home comes with its own set of unique challenges. 
Whether it's hiccups in technology, time zone differences, or feeling disconnected from coworkers, working from home can be uniquely frustrating and leave you feeling drained at the end of the day. Plus, if you thought coworkers dropping by your desk was distracting, working from home opens up Pandora's Box of interruptions.
Over time, breaking your concentration to sign off for deliveries, remind your kids that you're working, or to let the dog out is maddening. Even finding a place in your home to take a conference call without waking the baby is stressful. Fully serviced furnished suites take away the need for a do-not-disturb sign that's bound to be ignored.
Without the background noise of a library or coffee shop (which are closed anyway), you don't need an expensive pair of noise-cancelling headphones. For the first time in months, you'll be able to hear yourself think. Give your work the full attention it deserves, be as productive as possible, and reach breakthroughs. 
Take Care of Yourself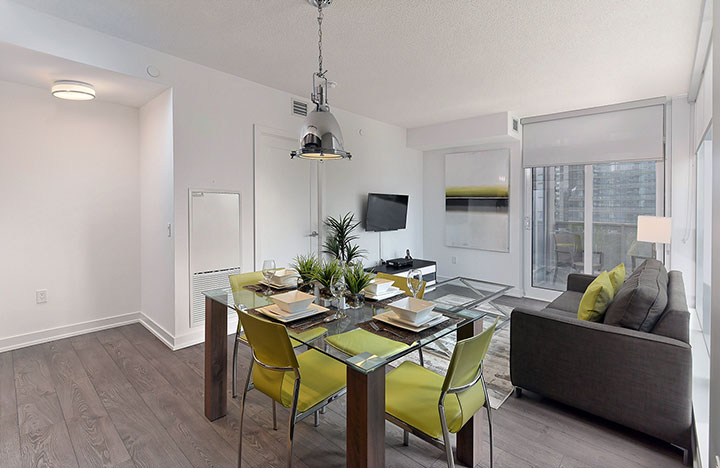 Living through a viral pandemic isn't easy. Lighten the load on your shoulders by treating yourself to a separate space—whether it's a personal getaway or a second home office, you deserve to feel rejuvenated and focused. 
Here at DelSuites, we take care of you. Our suites are fully equipped with everything you need—from toiletries and ensuite laundry (with detergent, of course) to top-shelf kitchen equipment. If you plan on working, we've got you covered with high-speed broadband internet and long-distance telephone packages. 
Each suite has been thoroughly cleaned and disinfected in accordance with our rigorous standards for cleanliness. All of our buildings are staffed with 24-hour security personnel and on-call managers who are ready to assist in an emergency. 
Give Yourself the Support You Need With Furnished Suites by DelSuites
Recent months have brimmed with stress and uncertainty. Release the tension that you've built up by retreating to a home away from home where you can relax, recharge, and focus like never before. 
For more information or to book your retreat today, email info@delsuites.com or visit our website.