As Canada begins the deliberate process of reopening the economy, we're left wondering whether key changes brought on by the pandemic will stick around for good. Will our new normal consist of online schooling, virtual doctor's appointments, and working from home? Only time will tell.
What we know for sure is that things will never be the same, and even something as basic as short-term rentals in Toronto has been changed forever. And while the employment market has taken a hit, certain sectors have thrived under COVID-19, including areas within tech, supply chain manufacturing, logistics, and shipping. But what about everyone else?    
For employers and employees alike, now is the time to learn new skills while sharpening your existing set. We've done the legwork and gathered the best resources for you to build your knowledge and gain a competitive advantage in the post-COVID marketplace—all for free. 
It should be noted that the benefits of professional development extend well beyond the workplace—they empower you in your daily life. Learning improves your health and wellbeing, drives curiosity, and creates unexpected opportunities.
Let's take a look at what free online learning resources are available to you while staying in a furnished suite in Toronto.  
Professional Development Courses Offered by Canadian Universities 
Canada's leading universities are providing a wide variety of free online courses in the wake of the COVID-19 pandemic. Participating institutions include: 
University of Toronto.

UofT is

using

Coursera

to offer online courses across disciplines, including topics such as programming, introductory psychology, and Aboriginal worldviews and education. They're also providing a course on

managing your mental health during COVID-19.

 

University of British Columbia.

UBC Is providing courses through

edX

on subjects such as coding and software development, novel-writing, climate change, and a wide range of business topics. 
Other well-known institutions, including Harvard and MIT, have followed a similar route. Take a look at what interests you:  
Princeton University.

Princeton has taken the

Coursera

route, with 14 courses currently available. Its selection primarily revolves around computer science theory and computer architecture—the standalones include a course called Buddhism and Modern Psychology.  
Stanford University.

Stanford's selection is similar to Princeton's, with 23 courses offered on

Coursera

. Start dates range from currently available to launching October of this year. Some highlights include Game Theory, Love as a Force for Social Justice, and Understanding Einstein: The Special Theory of Relativity. 

Yale University.

Yale is also using

Coursera

to offer its selection of 30 courses, many of which specialize in American law. Health-related courses include Introduction to Breast Cancer, Essentials of Global Health, and Health Behaviour Change: From Evidence to Action. 
More Resources to Boost Your Potential
A number of well-known organizations are currently offering free online courses and webinars to further your knowledge across a vast range of topics. Check out what's available: 
The Linux Foundation Training.

An expanded mentorship program was launched in response to COVID-19, offering free educational content on open source technologies. Check out their 45-page

ebook

introducing open source strategies and software for enterprises. 

CPA Canada.

Their

blog

updates you on the latest podcasts, webinars, and training to expand your skillset. Keep yourself in the loop with a stream of relevant resources and reading material. 

LinkedIn Learning.

Pick up in-demand skills from real-world professionals with over 14,000 courses to choose from. Free trials last for a month. Not sure where to start? Check out LinkedIn's course on

how to use LinkedIn Learning

. 
A Quiet Space to Learn and Work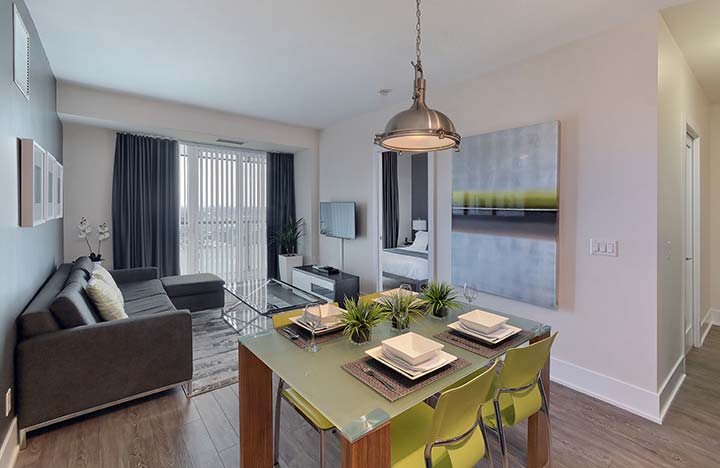 For many of us, the lockdown has been far from peaceful. With our usual outlets unavailable, little to no contact with family and friends, and the anxieties of a viral pandemic weighing on us at every turn, what we really need is a break from isolation. But we need to be careful. 
The solution is to find a space away from home (but not too far) where you can relax and focus while staying as safe as possible. Think of it as a temporary wellness retreat or a second home office. So, what's the answer? 
Short-term rentals in Toronto allow you to work and learn without constant interruptions. In particular, a furnished suite by DelSuites lets you take a breath and unwind while providing you with everything you need to stay exactly where you are, from a fully-stocked kitchen and ensuite laundry to high-speed internet. Our furnished apartments in Toronto offer the luxury, comfort, and safety of a hotel—only without the hefty price tag and high turnover of guests. 
Are you looking for a calm space to rest, rejuvenate, and learn new skills? Book your suite today by visiting our website. Feel free to get in touch with our team if you have any questions.