Whether it's a natural disaster like a tornado, hurricane, lightning, or flood; damage due to fire, smoke, or water; or any other event that leads to displacement of your policyholders – you know first-hand the devastation it causes. 
The homes and lives of your clients have been disrupted in an instant. Now all eyes are on you for the next steps. Even though their policy will likely cover expenses for temporary housing during these challenging times, finding insurance housing is often tricky and time-consuming. 
That's why DelSuites is here for you. Working with us will eliminate the stress of sourcing short-term housing solutions. This lets you zero in on what matters most – helping your policyholders get back on their feet.
DelSuites Makes the Process Easier
Once disaster strikes, families need immediate shelter. Finding temporary housing can be a daunting task, especially during chaotic times. As an adjuster, you have to overcome many obstacles, including:
Insufficient space or bedrooms for the size of the family

Finding accommodations within the insured's neighbourhood so they can maintain a sense of normalcy

Dealing with budget restraints

Cutting through red tape and slow response time with other property managers
That's why insurance adjusters are the perfect choice to help policyholders find fast and secure solutions. 
At DelSuites, we understand that finding reliable temporary housing in the wake of a disaster requires speed and accuracy – that's why we make it easier for adjusters to do their jobs effectively by providing simple online forms or one-phone call bookings for emergency or next-day accommodations. 
Plus, our established relationships with Toronto-area insurance providers simplify coverage approvals so displaced policyholders can get into safe and comfortable homes quickly. 
Our Goal is to Exceed Expectations
DelSuites insurance housing solutions meet policyholder expectations for size and location with properties throughout the GTA. And, they're cost-effective too – meaning insurance adjusters can provide better options than just a hotel stay. 
When you work with us, we take over the job of finding temporary housing – making it easier for you to support your policyholders in their time of need by providing a one-stop shop. Not to mention our efficient search/find criteria feature that meets the insured's needs and expectations quickly and reliably.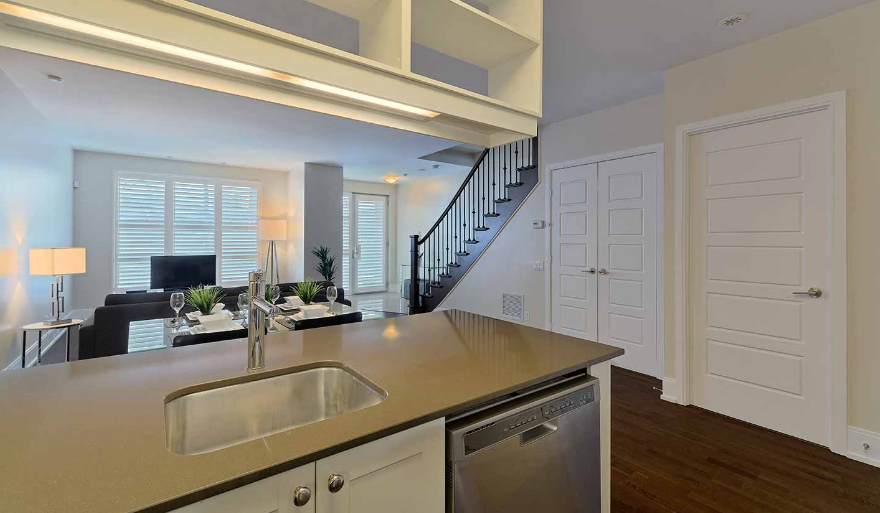 Source: DelSuites
A Suite to Suit Everyone
Experience the convenience of housing solutions to fit everyone's needs. With our suite of temporary accommodations, insurance adjusters can provide their policyholders with the following:
Premium comfort at tax-free nightly rates in their communities so they can remain close to work and schools

Studio, One, two, and three-bedroom condominiums to suit any size family

Flexible check-in and check-out times that adapt to the unknowns of home repairs

An opportunity for privacy and ease with separate bedrooms, living areas, dining rooms and fully equipped kitchens 

A carefree stay with all utilities, furnishings and linens provided 

High-speed WiFi, residential telephone and cable services to stay connected with family during the transition
DelSuites also takes care of your needs as an adjuster, providing advantages to expedite the process by:
Appointing a specific contact person to help personalize the procedure

Personally meeting the insured and giving them a tour of their new accommodations

Including all miscellaneous charges like parking in one affordable set monthly rate

Extending pre-approved credit for major insurance companies
From Scarborough to Mississauga, we've got an experienced team ready to work on your behalf and smooth any bumps in the road for you and your clients. With a vast inventory of properties to choose from, we take pride in serving adjusters and policyholders year-round. 
In keeping with our commitment to quality, DelSuites offers 24/7 guest services and eliminates the middleman by managing our properties directly. We aim to be accessible and supportive of you and your clients anytime, day or night. With backers like Tridel, you can be assured we've proven ourselves and earned the trust of our business partners.
Commitment to the Community
At DelSuites, our passion for helping continues beyond housing. Our company is devoted to improving the quality of life for those who are vulnerable within our communities. We proudly collaborate with organizations like:
The Furniture Bank

Ernestine's Women's Shelter

The Food Bank 

Building Opportunities for Life Today (BOLT) 
Our core values of safety, trust, and helping make lives better pushes us at DelSuites to provide support, shelter, goods, and services to those who need it most.
Partner with DelSuites for Safe and Affordable Temporary Housing
At DelSuites, we understand the importance of helping our customers feel at home, regardless of where they live. We strive to provide a safe and comfortable environment for displaced policyholders so that they can focus on their recovery. 
As an insurance adjuster, you can be part of this mission by partnering with us! Contact us today to learn more about how you can join our network and make a difference in your clients' lives.