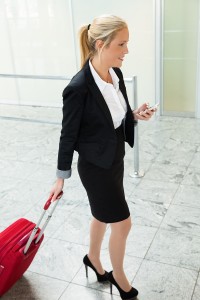 Even if travel isn't a regular part of your schedule, it pays to have certain items in your suitcase at all times. Having some key essentials to keep in your suitcase will not only help make your travel preparations easier, but it will also reduce your chances of forgetting something when you're in a rush.  Read our list of essential items to store in your suitcase so you're always ready to hit the road when you need to.
Wellness kit – While you're likely to keep your prescriptions close at hand, putting together a health kit that you can stash in your suitcase is always a good idea. Pick up small sizes of antacid, band aids, antiseptic ointment, throat lozenges, anti-fungal medication and decongestant will save you the hassle of trying to find an open drug store in a city you've just arrived to.
Toiletries – Keeping travel-sized versions of your favourite personal care items such as shampoo, conditioner, deodorant and shaving cream packed in your suitcase is one less thing you have to worry about, should you need to travel at a moment's notice. Be sure to check your supply of toiletries when you return from your trip so that you're stocked up for the next time you travel.
Electronic cords and chargers – From your laptop to your smart phone, there's nothing worse than having the battery life of your electronic device end abruptly. Keeping an extra set of cords and charging devices in your suitcase is a quick and easy solution that ensures neither you (nor a colleague) find yourself without power.
Travel clock – Sure your smart phone can double as an alarm, but having a backup doesn't hurt either. Let's face it, when you're in a new location, you're out of your regular routine and you might need a little extra help waking up. Have the alarm on your smart phone set for your desired wake time and then use your travel clock as a backup that's set for five minutes later. This ensures you'll never sleep through your alarm.
Rain check – When the weather forecast predicts sunny skies, rain isn't something you think about. But, keeping a small-sized umbrella and folded rain poncho in your suitcase at all times is a terrific way to avoid being stuck in the rain.
Whether you're in town for vacation, or enjoying a short term rental on a business trip, we highly recommend packing these five essential items to ensure you're prepared anywhere you go!