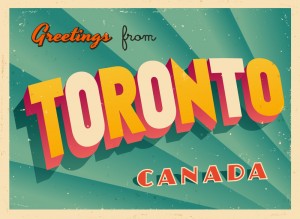 The Toronto in the 1950s was still growing and pre-dated the era of skyscrapers which started to boom in the 1960s. After the Second World War, many British children were sent to Toronto for safety while their fathers were in the war. The city continued to expand into the suburbs and it was officially a major city in this era. A mark of Toronto's prosperity was the construction of the Yonge Subway–it opened to the public in 1954– and a highway to the suburbs, which were located in Don Mills, at the time.
With the end of the war and the repeal of the Chinese Exclusion Act in 1947 (LINK TO 1920s post here), Toronto boomed and made way for an influx of immigrants. Germans, Italians, and Eastern Europeans were our first major wave of our multicultural community. British immigration was on the decline by 20 percent. This pattern continued into the 1960s, with an exotic mix of newcomers including more Europeans, West Indians, South Asians, and Vietnamese.
Residents moved back downtown from the suburbs in the 1960s and this is when the core started to thrive. Yorkville was not the tony neighbourhood of affluent people it is now. Rather, it was the hippie capital of the metropolis, chock full of coffeehouses where legends like Joni Mitchell and Gordon Lightfoot performed.
Though Toronto in the 1950s might have not been as exciting as the Toronto of other eras, it was still a definitive period of the growth of our urban landscape, which thrived into the 60s and 70s.

Latest posts by delsuites (see all)