Some Torontonians joke that many of the buildings in Toronto look like they are from the 1970s and it's because they were. Toronto in the 1970s was one that set up its future, now a construction boom of modern glass and steel buildings.
Many of our most recognizable landmarks were built in the 1970s. The Eaton Centre, the CN Tower, Ontario Place (under a current transformation of revitalization), and the Toronto Reference Library (also recently renovated in parts) are the buildings we know and love from this era.
It's hard to believe now but Yorkville in the 60s was the hippie capital of Toronto, where legends like Joni Mitchell and Neil Young were singing in coffee houses through those brick-laned alleys. Toronto in the 1970s ushered in its change to its tony status today with the introduction of high-end retailers such as Holt Renfrew and Harry Rosen in addition to art galleries and cafes. High-rise office towers replaced the low-rise buildings at major intersections.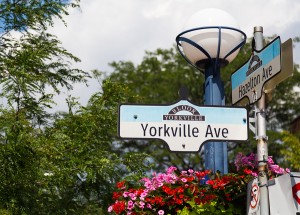 The Yorkville scene of folk music was being ushered out and the rising scene of rock and roll and punk on Queen Street West was gaining prominence. Bands like the Rolling Stones were playing at notable venues like the now historic venue, the El Mocambo.
As writer, Shawn Micallef, notes, "Torontonians generally like their public areas all on one level and in a straight line in contrast to Asian cities like Hong Kong, where street life can easily rise many floors above the sidewalk." Despite our underground pathways and current consistent construction, this trend hasn't really changed.
Check out this collection of photos of Toronto in the 1970s here.

Latest posts by delsuites (see all)