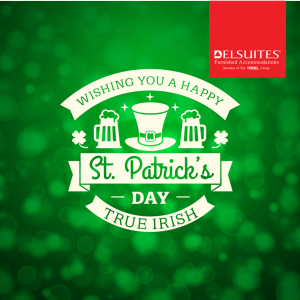 One of the biggest parties of the year, St. Party's Day, er St. Patty's day is your annual chance to paint the town green. If you're not having a party in one of our furnished suites in Toronto, here are our top five places to celebrate St. Patrick's day in Toronto; Ireland's patron saint.
1. Steamwhistle Brewery. Their annual party, held this Saturday March 14, is one of the liveliest in town but if you miss out on the party opt for the healthier Achilles St. Patrick's Day in Toronto, 5 kilometre run/walk on Sunday March 15. Bonus: the brewery is a quick stumble back to your furnished apartment.
2. The Ceili Cottage. This packed party is the closest you'll get to Ireland and its craic in Toronto. The bar–known for its winter yurt and its famous oysters–is hosting a St. Patrick's Week of events starting March 13 and ending on March 17. On Monday, March 16, the yurt will be host to a dinner of four courses and four Irish whiskies co-hosted by Jameson. (Tickets are $50; call 416.406.1301 for more information.) The big day will include live music from 3pm-7pm. For more information, check out their Facebook page.
3. Stout Irish Pub. Located in the charming area of Cabbagetown, Stout has an impressive variety of taps, and bottles plus cask. Events on Saturday March 14, and on Tuesday March 17 will feature Jameson shots, Lucky Charm Lager, and Devil's Hurricanes. Live music will be available from 8pm to 1am on both nights. No reservations.
4. The Brazen Head. This two level Irish funhouse in Liberty Village is hosting celebrations every day leading up to St. Patrick's Day including Irish inspired dishes, $4 brunch Caesars, and the Leprechaun Olympics (don't ask…we don't know either!).  More information is available on their Facebook Page.
5. Dora Keogh's. This long-standing sister of Allen's on the Danforth is a cozy room with copper stools and Guinness on tap. Dora's is known for its live music, which you can hear in the afternoon and in the evenings this weekend. The bar will be open from noon on Tuesday.
For next year, plan ahead and book St. Patrick's Day in Toronto at Amsterdam Brewery's all-day party (already sold out).