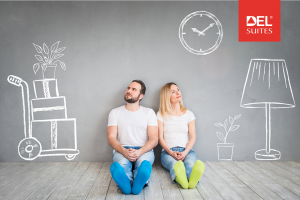 While Moving between homes, you may encounter construction delays, delays in property closing or relocation issues.
There are many reasons why a move might be delayed and real estate clients may require temporary housing for a month or longer. Many people don't anticipate the downtime between the closing date of their old home and the day they are allowed to move into their new home.  Staying in a hotel may not be the most comfortable and convenience option. They don't have access to kitchen or laundry facilities, there isn't a lot of space and they can't live comfortable for the long term.
Where to Stay While Moving Between Homes
One option for accommodation in-between homes are fully furnished apartment rentals in convenient locations throughout Toronto.
Every home buyer and seller are taken care of while they wait out any delays, with comfortable apartments and great amenities. The suites are already move-in ready eliminating the need to bring in and move your furnishings. Plus, it will work out to be more economical in the long run than a hotel room.  Then, when your new property is ready, you can move in with ease.
Advantages of Furnished Apartments over Hotel Rooms
When you stay with DelSuites, you will feel right at home. Here are some of the features offered:
A fully equipped kitchen, so that guests can have the choice to self-cater.
Separate bedrooms and a living area, ensuring that guests have enough space and privacy.
An en-suite washer and dryer with steam iron and a full sized ironing board.
Weekly or Biweekly cleanings by our superior housekeeping team.
High speed, secured wireless internet.
Local & North American Long Distance Calls (some areas excluded)
Personally encoded suite intrusion security alarm system, 24 hour building security and a 24 hour On-Call Manager for emergencies.
DVD and Stereo System.
LCD flat screen television with Premium HD package.
Underground, indoor, secured parking.
A furnished rental may also have a home office that is equipped with wireless internet, a desk, a chair and office supplies. So, if a you need to take care of some business, you will have a productive environment in which to work.
To find out more about furnished apartment rentals and how we can partner with your real estate brokerage, please contact us today.