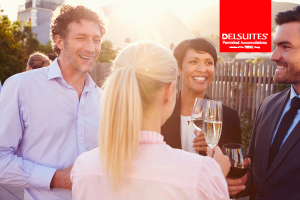 Nothing moves slower than the minute hand on the clock when you are waiting for your shift to end and the weekend begin. Even if you love your job, Monday to Friday is a long time to spend in the office and when your workday is over you will be in the mood to kick back with a few beers in a chilled out atmosphere.
So what are some of the best Toronto bars where you can celebrate the beginning of the weekend and have a fantastic Friday night? Here are a few great options:
The Bottom Line
Meet your buddies at the Bottom Line at Front and Yonge, which is a very popular spot for the after work crowd on Fridays. It is located in the Financial District of Toronto only steps away from Union Station or your furnished apartment at 300 Front Street West, so the location couldn't be more convenient for an after work drink if you are working downtown. Watch the sports games on the big televisions and enjoy a beer and a snack – you've worked hard this week so you deserve it!
Hemingway's
This chilled out patio bar and restaurant features live music from 10pm every Friday night, so it's the perfect place to relax at the end of the week. It has a great outdoor area and on a sunny Friday afternoon you will see plenty of Torontonians hanging out and soaking up the sunshine. It's named after the famous writer of course, who we all know loved to drink in his time.
The Horseshoe Tavern
The Horseshoe Tavern is one of the most well-known bars in Toronto and a long standing favourite in the nightlife scene. Since it opened in 1947 several fantastic bands have graced the stage on a weekend, from Blue Rodeo to The Police to Stompin' Tom Connors, The Strokes, the Rheostatics, Joel Plasket and the Barenaked Ladies. Usually the chilled out front bar is where you will hear the lesser known acts, while the back bar hosts the major big name acts.
Track & Field
Bring your friends to this fun bar and you can enjoy the top notch selection of cocktails while playing lawn games, such as Bocce Ball. Mixologist Jesse Borg serves up drinks that are just as delicious as their names are cheeky.
These are just a few of the best Toronto bars to check out on a Friday night, so that you can unwind from the week and get the weekend off to a great start!