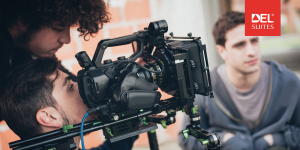 There are a number of factors as to why big budget movie and TV makers are heading to Toronto, including the city's talented workforce and diverse landscape. Plus, directors, film and production professionals are also lured northward by tax credits that cover labour costs. Now that animation and special effects studios in Ontario have emerged, producers are able to shoot, edit and animate their films all in Toronto.
Toronto may be one of the most popular actors in the movie industry. The city has played many big roles over the years, standing in for Boston, Chicago and New York. It's not uncommon to spot yellow cabs and movie cameras on the streets.
Here are some examples of Toronto's starring roles:
It became the fictional town of Hohman, Indiana for A Christmas Story in 1983.
The Silver Dollar Room on Spadina was the fictional Blue Oyster Bar in the movie Police Academy in 1984.
The Harvard Bar in Good Will Hunting (1997) was actually the Upfront Bar and Grill located on Front Street.
In the original X-Men film (2000) Roy Thompson Hall was the setting for an important scene where Magneto and Professor Charles Xavier meet.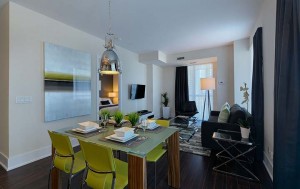 Toronto has earned the nickname Hollywood North over the years, due to its role as a popular production centre for a wide range of television shows and film projects. In fact, in 1979 Toronto Mayor John Sewell announced that Canada had become the third largest centre for movie production after New York and Los Angeles. In addition to this, Toronto is also home to the Toronto International Film Festival, which is considered to be second only to Cannes.
Convenient Accommodations for Film and Production Toronto
If you are coming to Toronto to work on a film or television project, furnished apartment rentals have got you covered.
If you work in the entertainment industry, you may be on the road more often than you are at home. When you stay in hotels, you don't have the space that an apartment has to offer. These furnished apartments are usually conveniently located in prime areas of Toronto, so you are never far away from your filming location.
A furnished condominium provides a separate living area and kitchen, as well as free WiFi, laundry, fitness centres, parking and other amenities. You will be able to cook your own healthy meals, spread out and do work in the apartment and relax in a spacious, comfortable and well-designed environment.
When cast and crew need to be on location in Toronto, whether for one month or longer, these apartments are ideal. They are safe and secure, offering controlled access. A high quality temporary housing for production crews, perfo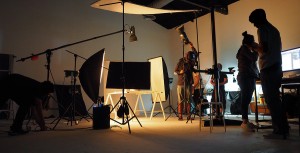 rmers, executives, actors or any other traveling entertainment professional.
To learn more about our furnished housing for film and production professionals, contact us today.
Latest posts by delsuitesadmin
(see all)