Life is too short to drink bad beer. Fortunately, there are several breweries in Toronto that have dedicated themselves to the art of crafting the perfect pint of suds. The craft beer scene in Toronto is thriving and these creative and hardworking brewers really take their beers seriously. Here are some of Toronto's best breweries to sample some of the delicious local brews.
Left Field Brewery
This baseball-themed brewery knocked it out of the park at the Canadian Brewery Awards. They took home the gold for "Wrigley" – a refreshing North American style pale ale. Any of the beers in their line-up are sure not to strike out, so give them a try. If you are feeling adventurous and like dark and sweet beers – try the marshmallow mocha stout called "Sweet Jesus."
Amsterdam Brewhouse
This is the oldest craft brewery in Toronto – it was established as a brew pub way back in 1986. Sit back in one of the comfortable Adirondack chairs and sip on the Barrel Aged Double Tempest, the Boneshaker IPA or the 3 Speed Session Lager. The food menu is also pretty great and pairs well with the beer, with yummy snacks such as mac & cheese croquettes, Amsterdam pretzels and
sweet potato fries.
Toronto's Best Breweries : Mill Street Brew Pub
This is another one of the city's original craft brewers and it offers a great selection of 15 beers on tap, from seasonal brews to signature ales. They also offer traditional German Bierschnaps (the first time a Canadian microbrewery has attempted them), so why not give
them a try? They are a beer based spirit distilled in the only copper pot still in North America.
Granite Brewery
This family owned brewery is a local favourite and they have been around for over two decades. They make English style ales in small batches and they have won a lot of awards for their creations. Their cask ale Hopping Mad has been highly acclaimed at the Golden Tap Awards for the past three years.
Steam Whistle Brewery
Steam Whistle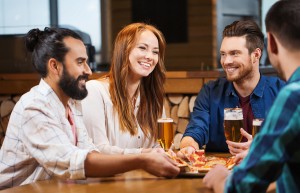 are gold medal winners at the Canadian Brewing awards and once you taste their delicious ales you will understand why. They have a sampling bar where you can take free sips of all of the different types of beers and find your favourite. You can also take a 30-minute tour of the facilities to see how the beer is made, then finish the tour with a cold bottle.
Get Well Brewery
Not only does this cool hangout have excellent craft beers, it also has pinball machines, retro 80s style arcade games and a very chilled out vibe. If you like Pale Ale, try the hoppy Pineball Wizard. Or, check out their currently nano-brew, which is always changing.
These are just a few of Toronto's best breweries to start a local crawl of Toronto.  And why not check out some of our picks for restaurants for groups! Enjoy responsibly and have fun!
Latest posts by delsuitesadmin
(see all)