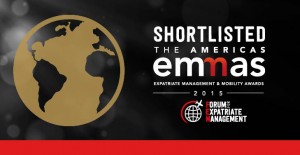 DelSuites is having a great year, fresh off from being shortlisted for an EMMA 2015 (Expatriate Management and Mobility Awards), the global mobility industry's premier awards by the Forum for Expatriate Management (FEM).
These awards recognize industry leaders, business successes and rising stars in global mobility. This is the second nomination for DelSuites being nominated for Corporate Housing Provider of the Year. The awards ceremony takes place on September 10th in San Diego, California.
'It is always great to be nominated for awards like this,' says Cliff Norton, Director of Sales. 'When you see the caliber of other finalists and to see DelSuites right there beside them shows that what we are doing is working. On a personal side, it is recognition of our staff and the countless hours that they put in during work time and on their personal time. Although it would be great to win, the nomination in itself is prize enough for me.'
Since its inception in 1999, DelSuites partnered with the Tridel group to meet the needs of a niche market: corporate travelers who require long term stays that is more comfortable than a hotel stay.  It has since then positioned itself as one of the best furnished accommodation rental properties in the business. The company has receive the 2015 TripAdvisor award of Excellence and is consistently rated by its guests for its service and cleanliness. Learn more about our guest services in our video; the role of reservations; and reasons why your company should consider booking an executive rental in Toronto. That said, Delsuites has not only grown to accommodate corporate clients, they also appeal to leisure visitors and families. Here are our tips on relocating your family to the city.
A full list of all EMMA Shortlisted nominees is listed here.
Stay tuned to see if DelSuites takes home the award this year!