Little Italy
Also referred to as College Street West, Little Italy is known for it's superb Italian-Canadian restaurants. During the weekends the streets are buzzing with visitors and locals dining on the outdoor patios. The Italian trattorias have a casual, family-friendly vibe and they are all about good, traditional recipes cooking with fresh ingredients.
Little Italy isn't a 100% Italian neighbourhood – while there is a strong Italian community there is also a significant Portuguese population located around the Portugal Village shopping centre and the First Portuguese Canadian Cultural Centre.
Must Visit Spots in Little Italy
History
Large numbers of Italian immigrants came to Toronto in the early 20th century, settling in the area around College Street in the affordable Edwardian homes there. Most found work on the railways or in road construction and many started businesses in the area.
It was during the 1920s that Little Italy really became recognized as the commercial and residential centre of the Italian community in Toronto. These days the area is home to the largest Italian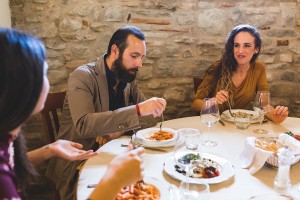 community that is located outside of Italy and it is a popular area of the city for visitors to explore.
How to Get There
It's quite simple to get here via the TTC. You can arrive from Queens Park or start from College Station on the Yonge-University-Spadina Line. Then, from there you can catch the 506 Carlton streetcar towards High Park traveling west on College Street. You can disembark anywhere between Bathurst Street and Ossington Avenue.
You can also travel from Bathurst Station on the Bloor-Danforth Line. When you exit, catch the 511 Carlton Towards Exhibition streetcar traveling south on Bathurst Street. You can disembark at College Street West. Exploring this street on foot is a delight, give yourself plenty of time to dip into the little shops and cafes to sample what they have to offer.
What's your favourite Little Italy spot? Let us know in the comments below.