Telephone
There is no charge for local or long distance calls throughout North America.
You may activate international calling by setting up your account by contacting the service provider Frontline Solutions at 416-307-1530 or by pressing Internet-TV-Phone button on your phone. You will be asked to provide your credit card details by Frontline to enable international calling.
Frontline International Calling Rates:
Rates are charged in CAD per minute and calls are rounded up to next minute. All rights reserved. Rates are subjected to change without notice by Frontline.
Voicemail
We do not currently subscribe to any voicemail service. If you do require this feature, please reach out to Guest Services and we will be happy to set this feature up for you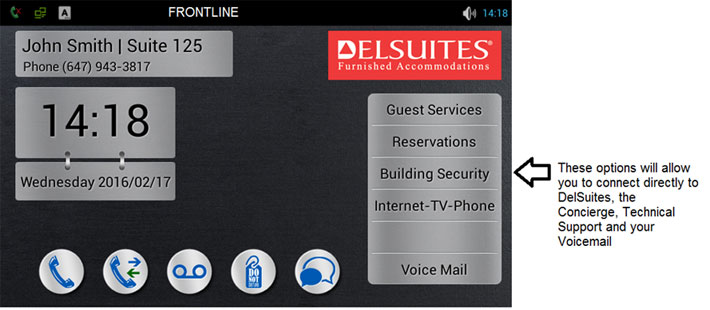 Enter Phone for Visitor Access
If you are expecting visitors, advise them of your Suite Name, which is included in your Welcome Letter in your arrival package. To gain access to the building, your visitors select Your Suite Name on the Enter Phone panel and call your suite. Quick rings on your phone tell you it is an Enter Phone call. Pick up the phone to speak and dial '9' to allow access. If you are on the phone, you will hear the call waiting beep on the line to signal an Enter Phone call. Press the hang-up button to speak to your visitor, then press '9' to grant access to the building and press the hang-up button to return to your call. All visitors must register with the Concierge. The concierge may call to confirm you are at home and willing to have the guest authorized to enter the property.
FAQ
Q:- How much does it cost to call long distance?
A:- All rates for long distance call rates are listed on our website through the online Guest Services Directory for your location.
Q:- Are there any fees or extra costs for making a long distance call?
A:- Each call is charged on a per minute basis and is subject to HST. There are no additional service charges above the regular call rate.
Q:- Do you offer a calling plan? How much? How do I order?
A:- Currently there is no calling plan available
Q:- Is there savings for calling at different times of the day?
A:- Calling rates remain the same regardless of the time of day the call is made
Q:- How do I make an international call?
A:- To make an international call simply dial 011, the area code and phone number. For example, if you are calling 44 20 7004 6000 you would need to dial 011 before the number.
Q:- Can I use a calling card or credit card for an international call?
A:- Yes, you can use a calling card. To make a call using your credit card you would first need to contact Frontline at 416-307-1530 or by pressing the Internet-TV-Phone Button on your Frontline Telephone. Once they add this to your account you will be able to call internationally directly from your suite.
Q:- Who charges my credit card?
A:- Frontline will automatically charge your credit card based on usage every 2 weeks during your stay
Q:- How do I access my voicemail from outside the suite?
A:- Dial your suite telephone number. Once the greeting picks up press the "#" key and follow the prompts to retrieve your messages
Q:- Will my phone work if there is a power outage?
A:- Yes, your Frontline phone will continue to work for a limited period of time
Q:- Who do I call if my phone isn't working?
A:- In the event your phone does