Television
Your suite is equipped with IPTV and includes a "Premium Plus" package that offers the highest level of HD content currently available. You can enjoy over 100 of the best Canadian and American TV channels at no extra cost.
Please note that you will need to first power your television ON with the TV remote. You can then use the Frontline remote to change channels, adjust volume, check the menu etc. You do not need to power off the Frontline Set top box when you are finished watching TV. Simply power OFF the TV using the TV remote. If you do power off the set top box it will take a few extra seconds to come on line and will bring you to the TV menu.
If you have any questions or technical difficulty please contact Frontline Solutions (our services provider) at 416-307-1530
Order additional channels
You may order additional channels by setting up your account by contacting the service provider Frontline Solutions at 416-307-1530 or by pressing Internet-TV-Phone button on your phone. You will be asked to provide your credit card details by Frontline to enable this service.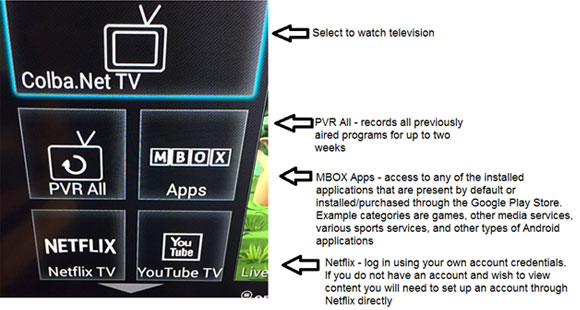 FAQ
Q:- What channels are available?
A:- A complete list of channels are available on our website through the online Guest Services Directory for your location.
Q:- Is HBO available? How much?
A:- HBO is available and is part of the movie network. Please refer to our website through the online Guest Services Directory for your location for pricing
Q:- I see Netflix available. How do I access it? Do I need an account? I have a US account – can I watch US content?
A:- By entering your own personal Netflix account details you will be able to view content. The contact available is from Netflix Canada.
Q:- Are specialty and multicultural channels available? How do I order them? How much do they cost?
A:- Yes, specialty and multicultural channels are available and pricing can be found through the online Guest Services Directory for your location. To order these channels, please call Frontline at 416-307-1530 or press the Internet-TV-Phone on your Frontline Telephone
Q:- My TV is showing no signal. What does that mean?
A:- The power to the set top box may be off, or the HDMI cable is not connected, or your TV may be set to the incorrect input. If this does not resolve the issue you can contact Frontline Technical Support at 416-307-1530 or by pressing the Internet-TV-Phone Button on your Frontline Telephone
Q:- Who do I contact if my TV is not working?
A:- You can contact Frontline Technical Support at 416-307-1530 or by pressing the Internet-TV-Phone Button on your Frontline Telephone
Q:- Can I surf the internet through my television? How do I do this?
A:- At this time this feature is not available