There are the pictures, the video tour—and then there's real life at Toronto's Hullmark Centre. What's it like to live day to day in a building—whether it's for a month or six months? It's a combination of neighbourhood flavour, personal design, and how your new home connects to the wider city.
This week, we'll take a closer look at Hullmark Centre: 35 stories of glittering sophistication in Toronto's Yonge & Sheppard neighbourhood.

An uptown neighbourhood that has it all
Hullmark Centre is the centrepiece of Toronto's vibrant uptown, Yonge & Sheppard: a neighbourhood that combines business savvy, family fun, laid back city living, and the diversity Toronto is famous for into one place.
Without losing its community feel, Yonge & Sheppard packs a bustling corporate district into the sky. The neighbourhood is home to major corporations like Nestlé and Bank of Montreal, legal offices, and a growing medical technology hub.
Government and diplomatic offices are also quartered in the neighbourhood: Service Canada, ServiceOntario, and Canada's federal immigration agency have major offices in the area. It's home to multiple diplomatic offices, including the consulates of South Africa, Panama, Argentina, Ghana, Kazakhstan, and Trinidad and Tobago.
Despite its business credentials, Hullmark's at the centre of one of Toronto's most family-oriented neighbourhoods. Hullmark is surrounded by both public and private schools—including two Montessori locations and one of Toronto's most famous arts schools, Claude Watson School for the Arts. It's ringed by parkland and playgrounds, including a major golf course. The neighbourhood is also a hub for religious communities, with churches from multiple denominations, a mosque, and several synagogues in the area.
There's also no lack of culture and fun. With a major movie theatre a few blocks north, a slew of karaoke bars and Asian cafés, and escape rooms, it's easy to plan a quick night out. Hullmark is also a few short blocks south of arts and concert venue Meridian Hall and Mel Lastman Square, a 20,000 square foot public square complete with a winter skating rink, outdoor concert space, a regular farmers' market, gardens.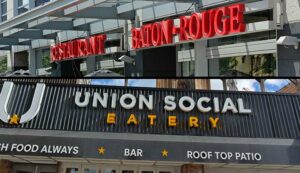 The square also hosts one of Toronto's biggest library branches—complete with a hands-on digital innovation space and fabrication lab—and programming for everyone from young children to adults new to Canada.
An elegant uptown lifestyle
Behind Hullmark's doors is where the vibrant city life of Toronto's uptown meets soothing elegance.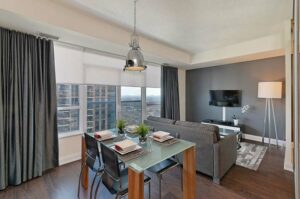 From its warm, bright lobby to the marble kitchen counters, DelSuites's Hullmark suites are built for your urban lifestyle. Each is equipped with comfortable, modern furniture: warm wood, soothing greens, and ultra-chic greys. You're welcomed into a space that's bright, natural, and ready to fill with your own unique personality.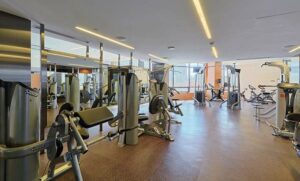 When you want to sweat, socialize, or just relax, there's also the chance to use Hullmark's peerless amenities. Hullmark boasts a spacious, fully equipped fitness centre with treadmills, cycling, yoga facilities, and full weights available. For swimmers, an outdoor pool lets you get your laps in, and there's an indoor hot tub and sauna to relax.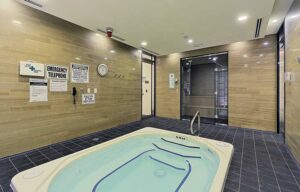 For friends and family, the indoor party room includes a wet bar and fireplace—perfect for dinner parties, cocktail receptions, or holiday meals. A theatre-style media room lets you host your own mini-cinema or invite friends to watch the big game. And if you're working remotely, Hullmark's sleekly professional conference room means you can meet clients and colleagues with flair.
The city at your feet
One of Hullmark's best features is how it connects to everything you need for Toronto living.
Hullmark living makes groceries and necessities easy, with a Whole Foods Market, Rexall Drugstore, and an LCBO just downstairs in the building. Local upscale grocer Longo's Fine Foods and Korean grocery H-Mart's M2M concept are across the street.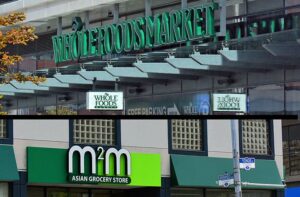 But beyond the neighbourhood, Hullmark gives you direct indoor access to Yonge/Sheppard subway station and two transit lines. On hot or wintry days, you can unlock the whole city—and the greater Toronto region—without stepping outdoors.
For those who'd rather take the car, Hullmark is located just blocks from Highway 401, making your adventures through the Toronto area and Southern Ontario region easy. With five 24-hour charging stations in the neighbourhood, it's an ideal area for electric, hybrid, and Tesla drivers.
Experience Hullmark Centre for yourself with DelSuites
There's a little bit in the Hullmark Centre lifestyle for everyone: families, professionals, retirees, community-lovers, and more.
If you'd like to try out Hullmark living—or make it a fit for your energetic city life—call us at 647-370-3504 or email info@delsuites.com. With fully furnished short-term rentals at Hullmark Centre and throughout the GTA, DelSuites can give you a taste of Toronto hassle-free.

Latest posts by delsuites
(see all)