Visiting Mississauga? Now you can stay in ultimate style.
We're thrilled to open up bookings for our newest DelSuites building: fully-furnished rental suites at Mississauga's ultra-modern Ultra Ovation Condominiums.
A ultra-modern Mississauga stay 
From the doors to the sleek decor, Ultra Ovation is designed for living life a little grander.
This established Tridel building features state-of-the-art recreation facilities: Scandinavian cedar saunas, a full fitness centre, yoga rooms, indoor virtual golf, and a sunlit swimming pool—all accessible with your keyfob.
There's also space for friends, family, or colleagues to gather. Ultra Ovation has a fully equipped indoor party room with a wet bar and an accessible business centre.
All this is surrounded by Mississauga's rich—and underhyped—cultural attractions: the Mississauga Living Arts Centre, Mississauga Public Library, and Celebration Square are mere steps away. A stay at Ultra Ovation means weekly farmer's markets, free outdoor movie nights, afternoon author talks, dance shows, and concerts under the stars—all a five-minute walk away.
Celebration Square is also your gateway to Mississauga's proud cultural diversity—with Portuguese, Muslim, Chinese, Italian, Japanese, Egyptian, and Philippine festivals scheduled for this summer alone. A stay at Ultra Ovation lets you discover the world at your doorstep or connect with community.
For sports lovers, the Mississauga Golf and Country Club offers golf and tennis, and there's plenty of trail hiking along the lakeshore at the Rattray Marsh Conservation Area. And if you're just in the mood to sit with nature, the Queen Elizabeth II Jubilee Garden is a quiet nook to sit back and smell the flowers.
With easy access to Square One shopping, both Canadian- and Asian-focused groceries, and Sheridan College's Hazel McCallion Campus, you're perfectly situated to enjoy Mississauga's downtown.
When you're ready to head into downtown Toronto—or out into Southern Ontario for a getaway—the Mississauga City Centre Transit Terminal connects you to regional GO Transit and Pearson International Airport stress-free.
All the DelSuites comforts you love
Our suites at Ultra Ovation come with all the DelSuites comforts and amenities you've always loved, including stylish, luxurious furnishings, soft sheets, towel and linens service, a fully-equipped kitchen, and ensuite laundry equipment. We'll help you keep your space clean and tidy with our in-house cleaning service, and if you're traveling with family or pets, we can welcome you with ease.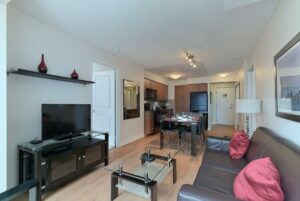 Our fully furnished rentals at Ultra Ovation come with full cable TV packages, high-speed internet, and North American long-distance calling as part of your rental quote.
Ultra Ovation's spacious units—over 800 square feet for a two-bedroom—come with elegant views. It's the perfect space for rest, relaxation, or a gateway into the whole Greater Toronto region.
And if you want to book with confidence, tour our Ultra Ovation spaces virtually from the comfort of your home.
Book your Ultra Ovation Stay now
Ultra Ovation bookings are open on our website now. Whether you're coming to Toronto for business, relaxation, or your next phase in life, DelSuites at Ultra Ovation is ready to pamper you. Call us at 647-370-3504 or email info@delsuites.com to find out more about our new Ultra Ovation offerings.