There's a reason a day at the art gallery is such a vacation staple. It's a fun, free afternoon out for anyone who's into the finer things in life.
Toronto is home to the celebrated, Gehry-designed Art Gallery of Ontario, which has some major collections and full events list. But there's a whole universe of smaller, international, tucked-away Toronto art galleries which are following what's new, fun, and weird in visual art.
If you're into the chance to really soak in what new, local, and unique talents are doing—or just like having a reason to explore whole neighbourhoods—here are some of Toronto's best smaller art galleries.
Harbourfront Centre
While it's not a sprawling, massive gallery, Harbourfront Centre is definitely an institution: a combination cultural space that hosts dance shows, theatre, art installations, major literary festivals, and more all year round.
Throughout it all, you can watch resident Toronto artists pot, shape, weld, glassblow, paint, and work through glass windows. And there's no shortage of family-friendly activities, like learning to skate on their rink in the wintertime.
But between the events, their smaller gallery spaces can get sold short. They're always host to a mix of incredible new and seasoned artists, both local and international—and absolutely free to browse. Featuring painting, photography, sculpture, mixed media, installation art, and craft, it's a sure source for a smart, fun afternoon. 235 Queens Quay West.
The University of Toronto Art Centre
The University of Toronto runs its own gallery—split between the Art Centre and the smaller Justina M. Barnicke Gallery in historic student centre Hart House. And while you can find all the student art exhibitions you'd expect, it's frequently home to some great, international exhibitions.
As a teaching and research collection, the centre heaps a great list of programs on top of its diverse collection: guided tours, artist talks, and group exhibitions that are all usually free to attend. It's a great chance to see modern and thoughtful art in some very historical buildings. 7 Hart House Circle.
The Distillery District
The historic Distillery District's a haven for smaller Toronto art galleries. It's easy to find just about anything you're interested in, within the arms of an old Victorian distillery made new.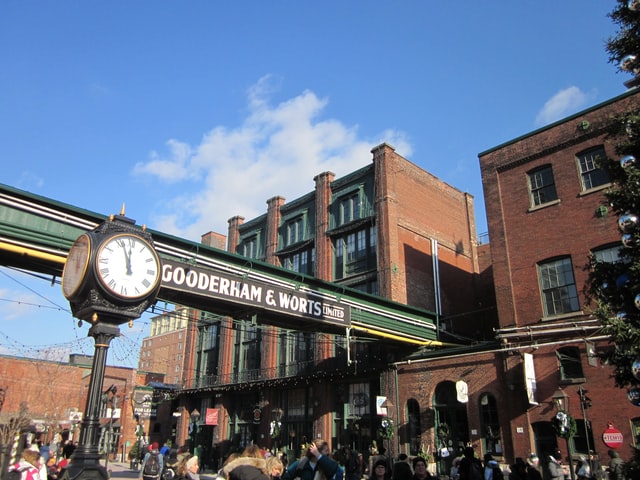 While there's a huge selection of high-end boutique shops—a large Fluevog store and Ontario's only sake brewery are special highlights—it's almost known for its commitment to art. The Distillery is home to galleries as large the Canadian Sculpture Society and Arta Gallery, a wide-open, airy space focused on contemporary art, to spaces as small as Artscape's warren of individual upstairs studios. It also holds some genuinely unique offerings, like Toronto's Deaf Culture Centre, which puts on regular exhibits.
It's an experience that's best taken in as a neighbourhood, with plenty of opportunities for shops, snacks, and enjoying the sunshine along the way. 14 Distillery Lane.
The Ryerson Image Centre
Another university-hosted gallery, the Ryerson Image Centre—just two blocks from the Eaton Centre—is all about photography and video. Whether it's photojournalism, video installations, documentary, or new media, they're all mixed expertly in a 4,500-square-foot space tucked discreetly away on campus.
Ryerson Image Centre's exhibitions mix student and historical projects with an indigenous and social focus. You're just as likely to find a history of WWII photography as a celebration of African women's portraits. With quiet screening spots, tucked-away specialty rooms, and a huge archive collection, it's an everlasting source for something quiet, provocative, and interesting in the middle of the downtown core. 33 Gould Street.
The Local Gallery
The Local Gallery only opened in early 2022—and as a spinoff from a Toronto ad agency, it's absolutely focused on what's up-to-the-minute in contemporary and pop art.
While they're not too shy about the sales end of things—there's a whole selection of "collectibles"—it's one of the few spaces that has a category for 3D-printed work. If you're looking to update your Warhol energy, this Little Italy storefront is a definite destination. 621 College Street.
Whippersnapper Gallery
Whippersnapper may be one of the tiniest Toronto art galleries. An 130-square-foot storefront at the south end of Kensington Market, where it borders Chinatown, Whippersnapper hosts most exhibitions through simply displaying them through the shop window, one installation at a time.
Whippersnapper packs more than a single installation into a small space. It's also an avant-garde, artist-run centre focused on emerging—or "new generation"—artists. It's also exquisitely responsive to the neighbourhood it's in: the heritage of surrounding Chinatown often takes centre stage. 594b Dundas Street West.
The authentic Toronto neighbourhood experience deserves a Toronto neighbourhood stay. Call DelSuites at 647-370-3504 or email info@delsuites.com to find out how we can open Toronto up for you to discover.

Latest posts by delsuites
(see all)