Vibrant and multicultural North York is a delight to explore on an empty stomach.
Whether you're looking for authentic Asian cuisine, friendly bakeries or laid back cafes, you'll discover plenty of places where you can eat your fill without breaking your budget.
So, if you are craving big tastes at a small expense, here are some great local recommendations for the best cheap eats in North York.
This humble eatery is a great place to bring your family or a group of friends. Together, you can share an entire lechon chicken for as little as ten dollars. This is a special Filipino way of roasting meat that is traditional to the city of Cebu – where the family who runs the restaurant is from. A lechon feast is enough to feed several people – and the crispy roasted skin is irresistible. You can also have enough chopped pork lechon (sold by the pound), or treat yourself to a chicken leg or pork skewer combos for less than you would expect.
There's nothing quite like a big, satisfying bowl of Pho – with that warm meaty broth, complex flavours and delicious noodles. At this small and cheerful restaurant, you'll sometimes struggle to find a seat, as the Pho has become pretty popular. The servings are generous and the main dishes won't set you back more than $10 at most. This is a local favourite for cheap eats in North York.
If you are looking for a cheap, filling lunch forget about Subway. The tasty, fresh sandwiches at Haida Sandwich are better – and they are also very easy on your wallet. A crowd favourite is a Lamb Special footlong with tomato, romaine hearts and special sauce. They also serve up pizza and mouth-watering ice cream sundaes.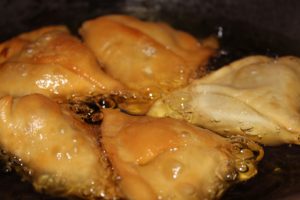 Is there anything better than biting into the flaky pastry and warm spicy filling of a crispy, deep-fried samosa? The gorgeous little triangles of potatoes, carrots, green beans, and corn are all tossed in a secret blend of hot Indian spices and they are simply addictive. You can eat your fill even if you are on a small budget.
Looking for a short-term rental in North York?
To find your short-term furnished apartments in North York, Toronto, be sure to start your search now for apartments for rent in North York.

Latest posts by delsuites
(see all)