With newly designed apartments for rent mississauga Skymark West has hit the mark for guests who favour a contemporary aesthetic. Beginning with a neutral colour palette that includes a light grey shade along with deep chocolate brown and cream furnishings, the suite's main living areas including the living room, dining room and kitchen offer a warm and inviting atmosphere.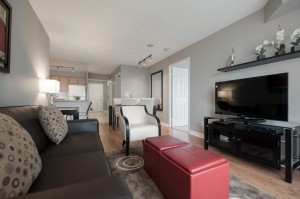 In this open concept living and dining room, light and dark shades complement the space where cream dining room chairs and accent chair contrast the rich espresso dining table and leather love sofa-bed respectively.
With designer furnishings that feature sleek lines as well as reflective glass surfaces, guests will instantly appreciate the bright and airy feel that expertly reflects Skymark West's outdoor environment.
Using accent pillows and artwork, the design team was able to inject pops of brilliant cherry red which is a key element in creating the suite's contemporary atmosphere. At the same time, the subtle yet graphic style of the suite's artwork offers a modern compliment to this contemporary space.
In the living room, moveable leather cubes provide additional seating which can be easily double as side tables or moved to another area when not in use.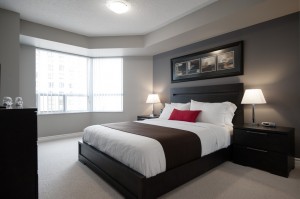 In the bedrooms, a relaxing retreat awaits guests where crisp white linens complement the clean lines of the bedroom furniture, while hypoallergenic pillows and duvets are a welcomed addition for guests. The suite's bathrooms were also redesigned in an effort to create a consistently contemporary feel throughout.
Beyond the fresh interior designs at Skymark West, these short term rentals in Mississauga are now equipped with up-to-date technology such as iPod docking stations and high definition, LCD flat screen televisions in both the living room and master bedrooms. In addition guests can also take advantage of high definition digital cable packages that will guarantee your viewing enjoyment of the latest movies, television and sports.
Although the building amenities and services at Skymark West remain the same, you'll enjoy the fresh new look that can be found when you open the doors of one of these newly designed suites.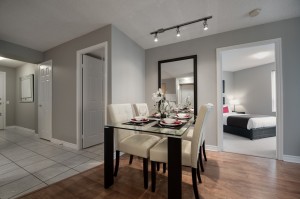 Latest posts by delsuites (see all)