Let's face it, after a busy day at work, that last thing you want to do is to clean.  It's nice to come home to a clean, fresh smelling apartment, leaving you feeling relaxed and happy.  It can put that little bit of pep back into your step and give you the energy to do something you love to do.
Our downtown toronto apartments offer worry free living allowing you to experience the DelSuites difference.  We look after the little things that can overwhelm the best of us at times.  We take care of the details so you have the time to spend with your family, read that book that has been calling you from the nightstand, go for a walk and explore your new neighbourhood or simply put your feet up and watch your favourite television program.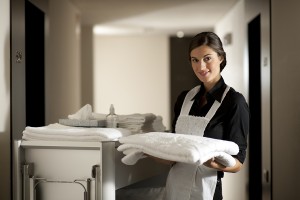 No one really wants to have to clean the bathroom or wash all those towels and sheets.  Who wants to spend the time?  We do!
Our friendly Housekeeping staff will come to your suite each week to change all the linens, remove the garbage, dust and wash your floors.  Our ladies are also trained to look for the smallest of details to ensure that your stay is problem free.
Our linens are processed at our Central Laundry where they are sorted, pre-treated, washed, dried and hand folded.  Our laundry staff takes extra care to ensure that all linens are pre-treated and washed properly to ensure that they are in excellent condition.
With each passing day we get busier and busier.  Knowing that your furnished rental apartment will be looked after will leave you relaxed, healthier and more time for you.

Latest posts by delsuites
(see all)