Travelling with kids can be an overwhelming experience, especially for the first time. However, it can also be a fun and rewarding experience to discover a new city with your family. Here are a few of our tips that will make the journey easier.
1. Prepare your child for the airport. As your kids may not understand the full experience of traveling, prepare them before the trip by reading books like "Airport" to educate and excite them about their upcoming journey.
2. Consider What to Bring, Flying Times, and Keeping Your Child Entertained on the Flight.
Being prepared can make the flying experience for your family easier. Have a backpack prepared with everything for the flight so it's easy to find. Bring snacks that will take your child a long time to eat (like raisins) since in-flight options are limited or cost extra. Time your flights to your child's sleeping schedule or try the red-eye flight. Consider buying a seat for your child, especially on longer flights for ease and comfort. In addition to having portable electronics amped up with your child's favourite apps and games, surprise your child. Buy a new book or toy for the plane and wrap it up in tissue.
3. Consider renting an apartment, suite or condo. Though hotels have their perks, rentals can give you more space as well as the amenities or perks you may not find in a hotel. For instance, you may have a better supplied kitchen, watch movies without the pricey hotel tag, or invite friends over to dinner in your dining room. DelSuites is a great option if you're in Toronto. DelSuites will help make the transition easy by providing a FREE 'Kids Care' gift for every child ages newborn to 14. Items including bath to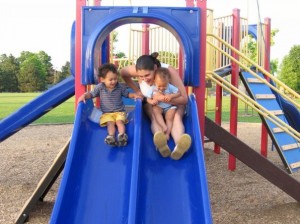 ys, children's books, playing cards, itunes gift cards and more.
4. Stay in an area where there is lots to do within walking distance. Being in a central area will keep you close to the action but nearby your accommodation. This will be helpful for those scheduled nap times and dealing with jet lag. It also helps if you are having meals at your short-term rental apartment for lunch or dinner. Location is key when planning your family vacation.
5. Get your child involved in the planning process. When considering activities, show your little one pictures of what he or she might like to do in location. Being involved in the process makes them more excited about the decisions they made. Look at local playgrounds, parks, and outdoor spaces. Not only are these a great way to see a new city like a local but also free!
Traveling with kids can have its moments but it can also be revitalizing. What are your tips for travelling with kids and your family? We would love to hear!
References:
Joanna Goddard – 10 Tips for Traveling with a Baby
Joanna Goddard – 10 Ways to Entertain a Toddler on a Plane
Oh Joy – Traveling Abroad with a Toddler

Latest posts by delsuites
(see all)