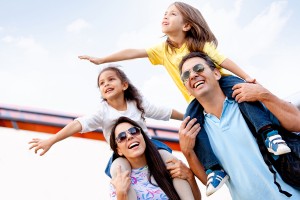 Traveling with a family is unlike traveling solo. In fact, it's unlike traveling as a couple. Whether you're traveling for business and bringing the family or relaxing on vacationing with them, keeping everyone in good spirits takes a little added planning. These days logging frequent flyer miles with your whole family has become a lifestyle and for many families, here are some ways to ensure the journey is as enjoyable as the destination.
Be Kind to Fellow Travelers: Just because you're traveling with your family, doesn't mean that everyone else is too. While your family takes priority, being aware of travelers en route to your destination makes the experience pleasant for everyone. Extending a little advanced courtesy to fellow passengers while on your flight or train ride will make them more accommodating should your children burst out into tears or a full-on sibling squabble.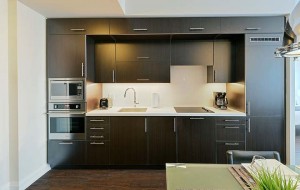 Find Family-Friendly Accommodations When you're traveling with the whole family, budget friendly stays are essential, which makes a hotel stay nearly unaffordable. But choosing extended stay accommodations means that you'll save big by having the flexibility to purchase groceries and prepare some meals in the rental's fully-equipped kitchen. 
Walk Everywhere: Sure renting a vehicle may seem like a great idea, but nothing beats touring a new city on foot to soak up the local culture. Although you may not cover as much ground as you would in a car, your family will truly get to experience a new city in a very up close and personal way. For families with older children, bicycle rentals are also a great way to get around and explore.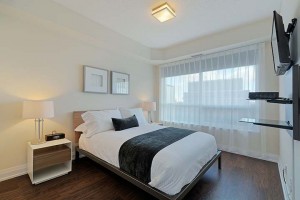 A Room of Your Own: Hotel rooms are short on space and when you're traveling with your family, a little extra wiggle room can be essential to keeping the peace. A short term apartment rental offers additional living space, along with the option for separate bedrooms. In addition, amenities that families may require during their stay including swimming pools, fitness areas and other recreational facilities will keep everyone occupied even when you're not out exploring. What's even better? These amenities are included in the cost of your rental. 

Enjoy the Adventure: Without a doubt, things will go wrong.  But family vacations aren't about perfection but rather about enjoying life as it happens. Missing some spots on your tourist map? Relax, that just means you'll have more to explore the next time. Keep it simple and enjoy the journey!

Latest posts by delsuites (see all)