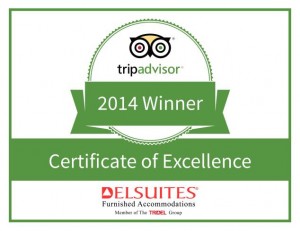 TripAdvisor® has honoured DelSuites with a 2014 Certificate of Excellence. This great achievement honours hospitality excellence and is presented to organizations that attain top ratings from TripAdvisor traveller reviews.
TripAdvisor uses a proprietary algorithm to determine the honorees which takes into account reviews ratings. To qualify, companies need to maintain an overall rating of four or higher, out of five, as reviewed by travelers. Additional criteria include the recency of reviews in the last 12 months.
"Winning this Certificate of Excellence is a accurate source of pride for the entire team at DelSuites and we'd like to thank all of our past guests who took the time to complete a review on TripAdvisor," said Dan Henderson, General Manager at DelSuites. "There is no greater seal of approval than being recognized by one's customers. With the TripAdvisor Certificate of Excellence based on customer reviews, the accolade is a remarkable vote of confidence to our business and our continued commitment to excellence."
View the DelSuites TripAdvisor press release.

Latest posts by delsuites (see all)