Did you know that in 2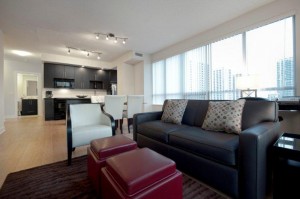 011, Toronto welcomed nearly 10 million visitors from around the globe? According to Tourism Toronto, business and leisure travelers as well as friends and family of Toronto residents are among the three types of visitors.
From singles to couples to young families, these days many travelers are also opting for accommodation alternatives to hotels such as DelSuites furnished apartments in Toronto, not only for the added conveniences but also the level of affordability that will suite a variety of budgets.
Rich in history and culture,Toronto also offers an array of budget-friendly and high-end activities and tourist attractions from professional sports to theatre to cultural festivals and events. When it comes to accommodating your stay, DelSuites' short term rentals in Toronto are an accessible option whether you`re new to the city, a long-time resident or simply hosting guests from out of town.
Whether you're touring Toronto for the first time or rediscovering your hometown, here are four destinations that will get you out and about during your stay with DelSuites furnished rentals inToronto.
Situated in the heart of Toronto`s downtown core, in recent years this historic community has become a mecca for artists, artisans, theatre and restaurants. A pedestrian (or bicycle) friendly neighbourhood makes it a family-friendly destination that will keep everyone easily entertained. Attend on weekends and explore one of the many festivals and events that take place throughout the year.
While restaurants are abound, the Distillery`s close proximity to St. Lawrence Market means you`ll have plenty of reasonable dining options and selections of fresh groceries from fish mongers to fruit farmers and everything in between.
Beaches
With several kilometers of sandy beach, beach volleyball nets, playgrounds and picnic areas, the Toronto Beaches are a natural summer destination for anyone looking to escape the heat.
Take a relaxing stroll along the boardwalk which spans a kilometer stretch along Lake Ontario`s glistening shoreline. Whether you take a dip in theLake or board a watercraft, the Beaches offer plenty of activity for all ages.
For shoppers and foodies, a short walk north to Queen Street offers a wide array of local shops and restaurants that are not only popular among residents but also offer unique gift ideas for travelers.
Evergreen Brickworks
Bringing together nature and culture in a community-focused setting, Evergreen Brickworks is a great way to explore the city`s local offerings under one roof. Located in the heart of Toronto`s Don Valley, this public space is home to garden market, farmer`s market and art installations as well as hosting environmental exhibits and special events.
During the summer months, weekly film and pizza nights in the BMO Atrium and Chimney Court, respectively, round out the evenings while the winter months are filled with skating at Koerner Gardens and other cooler weather activities.
While you are welcome to explore Evergreen Brickworks on your own, for a nominal donation ($5 is suggested) you can take advantage of a tour that will get you familiar with each of the individual areas.
Toronto Island
A 10-minute ferry ride ($5 return trip) from Toronto`s bustling downtown and you`ll find yourself in the peaceful serenity of the Toronto Islands. Comprised of three major islands, eight islands with names and several without, but each offers a unique experience. Among the more well-known, Centre Island is home to Centreville, a family amusement park that features rides such as a historic merry-go-round, bikes, paddleboats,  in-line skating rentals and plenty of room for picnicking. Ward and Algonquin Islands feature historic cottages dating back to 1920 alongside more modern dwellings, while Hanlan`s Point is a quiet retreat that`s also home to Toronto`s famous haunted lighthouse.

Latest posts by delsuites (see all)