When you are planning for a trip, it really helps to have a travel checklist you can follow along with – to make sure you don't forget anything important.
Packing can be stressful and it's easy to accidentally forget something important. With a checklist, you don't have to think so hard. You can simply follow along with the checklist and make sure you have remember all the travel essentials you wanted to bring.
So, what should you include on your travel packing list? Your packing list for vacation will of course depend on where you are going and what you plan to do when you get there. However, there are a few essentials that you will likely want to bring along with you on any trip – which is why a general international travel packing list is helpful.
The key to packing light is to bring items that are compact and serve multiple purposes. For example, a sarong is a great travel essential. It can roll up very small but it can be used as a scarf, a skirt, a swimsuit cover-up, a towel and even a lightweight sheet or blanket. Another great item is a simple cotton dress that can be worn with casual shoes or sandals during the day, then dressed up with jewellery in the evening.
Also, remember that if you are coming for a long trip you might be able to find the items you need when you arrive. Most items are available in local shops and pharmacies abroad – with the exception of special prescription medication and some other personal items.
Travel Packing List: What to Pack for A Trip
Wondering what to pack for a trip? Here are some of the typical essentials that most travelers will want to bring with them on their trip. You can use this vacation packing list as a base for developing your own unique, personalized packing checklist.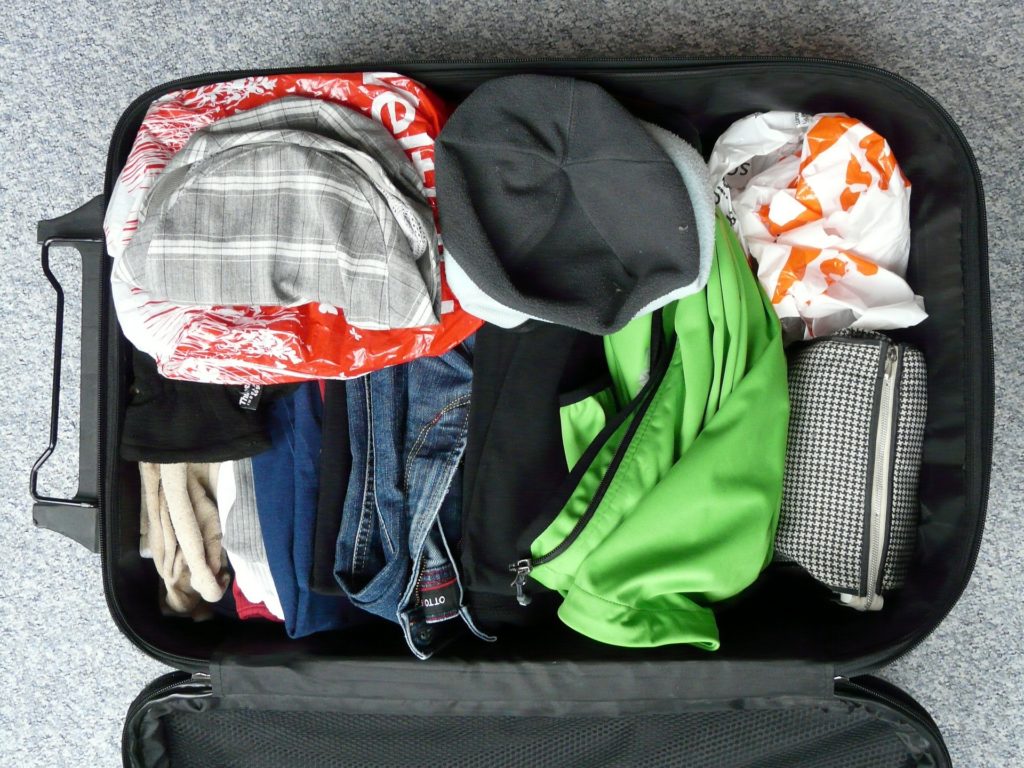 Clothing Essentials
Socks
Underwear
Bras
T-shirts
Pajamas (although, these are not necessary if you are short on room. You can sleep in a t-shirt)
Swimsuit
Shorts
Jeans
Belt
Dresses
Skirts
Sweaters (even if you're in a warm destination, pack one lightweight layer for air-conditioned airports and buses)
Scarves
Sandals
Running/Walking Shoes
Purses/Handbags/Wallets
Sarong
Travel towel
Toiletries
Toothbrush
Toothpaste
Dental Floss
Soap
Deodorant
Shampoo/Conditioner (some hotels will have it, but it's not guaranteed.)
Hairbrush
Hair elastics
Hair products (gel, hairspray, mouse, etc.)
Facial Cleanser
Moisturizer
Sunscreen
Shaving supplies
Contact lenses and solution
Makeup/Makeup Remover
Tampons/Pads/Diva Cup
Birth control/Condoms
Nail clippers
Tweezers
Hand sanitizer
Bandages
Antibacterial ointment
Painkillers
Insect repellant
Imodium
Motion sickness pills (especially if you will be traveling by boat)
Cold and flu tablets
Medications
Anything specific to the location (such as antimalarial pills)
Electronics & Miscellaneous Items
Laptop
Smartphone
Chargers
Adapter (research which type of electrical socket is used at your destination!)
Digital camera
Memory card
E-reader
Headphones
Earplugs
Tissues
Gum
Lip Balm
Water bottle
Sunglasses
Important Documents & Travel Necessities
Passport
Flight confirmation
Credit cards
Emergency contacts
Copies of passport/credit card, etc.
What do you include on your packing list? If there's anything we've missed on this vacation checklist, let us know in the comments below.
Latest posts by Kelly Dunning (see all)