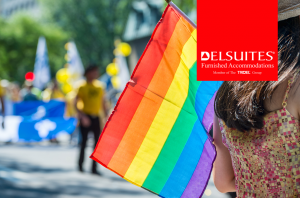 When the month of June comes around in Toronto, the weather starts to get sunny and warm and the city comes alive with many great events and festivals. There are Toronto June events held all over, offering many opportunities to have a great time in the sunshine. Here are some of the exciting events that you can look forward to in Toronto:
Toronto Pride
June 24th – July 3rd, 2016
Pride Week takes place in Toronto toward the end of June every year and is a vibrant and colourful celebration of the LGBT community. The Pride festival includes a lot of exciting events, including musical performances, dance parties and a huge parade that travels down Yonge Street, Gerrard Street and Bloor Street. It's a wonderful opportunity to let loose, dance and have fun and everyone is welcome.
Luminato
June 10 – 26th, 2016
Luminato is an arts and culture festival that includes theatre, film, dance, music, art and literary events featuring artists, filmmakers and playwrights from all over the world. The 17 day event includes a number of performances throughout the city and this year 1000 performers will be taking part. David Pecaut Square is the hub of the festival and will host free concerts every night.
Taste of Little Italy
June 17th – 19th, 2016
The Taste of Little Italy Festival takes over College Street, making you feel like you have been transported to Europe and are strolling through an Italian piazza. You'll have the opportunity to taste some delicious Italian treats, including mouth-watering pizza, pasta, gelato, coffees and more. There will be more than 20 international live music performers as well as crafts for sale by local artisans.
Toronto Jazz Festival
If you love jazz music, check out this chilled out music festival featuring an incredible array of talented performers. Some of the amazing artists that will be featured this year include Grace Potter, Wynton Marsalis, Sharon Jones and the Dap-Kings, Sarah McLachlan, Gregory Porter and the Chick Corea Trio. The Toronto Jazz Festival will be celebrating its 30th anniversary and is one of the premier jazz festivals in North America. The heart of the festival will be in Nathan Philips Square in downtown Toronto, where you will find a massive 1,200 outdoor stage and many exciting free events.
These are just a few of the most exciting events that Toronto has to offer in the month of June. There are also plenty more Toronto June events, performances and things to do, so get out there and join in the fun!
Latest posts by delsuitesadmin
(see all)