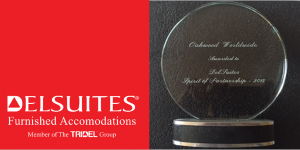 DelSuites is proud to announce that it has been recognized by Oakwood Worldwide and has been granted the Spirit of Partnership Award. This prestigious award was announced during the Corporate Housing Providers Association annual conference.
Oakwood Worldwide is the global leader in the field of serviced apartments and corporate housing and it recognizes the best supply chain partners from North America at the annual Corporate Housing Providers Association conference. Other awards were given out during the conference for other achievements in the industry, such as highest service level, highest volume and more. This conference is one of the most important events in the corporate housing industry.
The Spirit of Partnership Award
This award is not for the accommodation with the most room nights or the best customer scores, but for the company that will go above and beyond to help Oakwood in any way possible. The Spirit of Partnership award celebrates companies that are involved in the community around them and are actively working to make it a better place.
This award is a direct reflection of the positive attitude and excellent customer service approach that DelSuites has. In everything that they do, DelSuites goes further and strives to be involved in the community in positive ways. It is an honour to receive this award, as it highlights the dedication DelSuites has to improving the world around them.
A Commitment to the Community
DelSuites recently visited the Toronto Humane Society and donated five bags of gently used towels to this organization. The Humane Society cares for the health of stray animals and provides them with shelter, medical care and spay and neutering services.
The organization is run by volunteers who work to match the animals with their new homes, socialize them, groom them, walk them, play with them and feed them. By getting involved with the Toronto Humane Society and donating these used towels, DelSuites is contributing to a healthier and happier community. Working together with the Toronto Humane Society is just one of the ways that DelSuites contributes to improving the city and the lives of animals and people in the community.
Latest posts by delsuitesadmin
(see all)