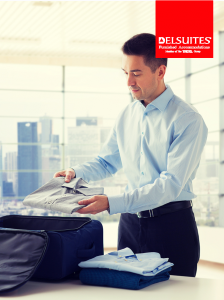 If you are travelling to Toronto on business, having a good place to stay is crucial. You'll be focused on getting things done and achieving your business goals, so your accommodation needs to facilitate this by being convenient and comfortable. Delsuites business travel Toronto has been providing high quality corporate housing for over 17 years, offering business travellers the ideal place to stay for projects, relocation, assignments, training, conferences or any other corporate visit.
We understand that the needs of a business traveller are very different to the needs of someone visiting Toronto on vacation. We know that offering good service and excellent amenities saves you time and increases your productivity. We understand that a convenient location keeps you close to your work and networking events. We have worked to create comfortable furnished rentals in Toronto that provide you with everything you need to feel well rested and prepared to take on a busy day.
Why Staying in a Furnished Apartment is Perfect for Business Travel Toronto
If you are visiting Toronto on business, staying in a furnished apartment is a much better alternative to staying in a hotel. Here are some of the advantages:
You'll have a productive workspace and high speed internet, so that you can get work done during your stay – because we know that work doesn't always stop when you return to your room.
The locations within Toronto are close to the main business area and are well connected with public transport.
Local calls are free, so that you can network with your contacts in the area.
Early Check in and Late Check Out are an option (based on availability).
We also offer a free one-way transfer to or from the airport.
The high quality beds are extremely comfortable, ensuring that you will be well rested for that big presentation or important meeting.
The fully equipped kitchen allows you to prepare breakfast before an early morning meeting or make a quick and easy dinner for yourself when you are tired from work and don't want to head out to a restaurant.
When you want to relax and unwind after a hard day of work, you will have access to the recreational amenities within the building including the fitness centre, swimming pool, whirlpool and billiards room.
Our accommodations offer advantages over hotel rooms because they are more than just a bed for the night. We provide a total package that will make business travel Toronto convenient and enjoyable.
If your company needs excellent corporate accommodation solutions at an affordable price, please fill out our Corporate Client Form. One of our account managers will contact you to put together a corporate package that is tailored to your needs. Also, we have a network of partners around the world so we are able to find accommodations internationally for your employees. If you have any questions, please feel free to give us a call.
Latest posts by delsuitesadmin
(see all)