Toronto is a delightfully diverse city and its many neighbourhoods reveal cultural influences from around the world. Let's take a close look at one of those exciting neighbourhoods – Chinatown.
Introduction – Chinatown
Everything from food markets to bars to music shops to vintage clothing boutiques and much more are located within this compact neighborhood, running along Spadina Street. It is one of the largest Chinese districts in North America and is home to ethnic Chinese from Vietnam, Taiwan, Singapore, Hong Kong and elsewhere.
One of the best times to visit this neighborhood is during Chinese New Year, when there will be a loud, noisy and exciting Dragon Dance parade winding through Dundas Street.
Must Visit Spots in Chinatown
History
Chinatown in Toronto first began in the 1890s, when many American Chinese emigrated from California (due to the racial conflict there) and from the Eastern USA (due to the economic depression). One of the first to establish here was a man named Sam Ching, who opened a laundry business on Adelaide Street. He was the first Chinese person to be listed in the city directory of Toronto and there is now a lane named after him.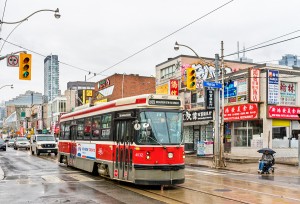 Chinatown went through two phases in it's history. There was the original "First Chinatown", which became a slum area for incoming immigrants from the 1890s to the 1950s and was razed in 1955 to make way for Nathan Phillips Square and Toronto New City Hall. Then there is what is known now as the "Old Chinatown." Although a small Chinese community was already in this location before the 1950s, the businesses that had to be relocated from the first area moved here.
How to Get There
Chinatown is accessible by the 510 Spadina and the 506 College Streetcar. It can also be reached from the St. Patrick Subway Station, which is about two blocks west along Dundas Street.
What's your favourite spot? Let us know in the comments below.
Latest posts by delsuitesadmin
(see all)