One of the most popular day trips from Toronto is Niagara Falls. It's one of the most spectacular natural wonders in the world and it's hard to truly fathom the spectacular rushing flow of water unless you have seen it with your own eyes.
Niagara Falls is located just outside Toronto, so it's perfect for exploring on a day trip or a weekend getaway. There are several choices for accommodation in the area, from luxurious boutique resorts to simple, affordable and basic hotels. So, it's easy to stay over and explore the area more.
Since going to Niagara Falls from Toronto is so popular, there are multiple options for getting there.
Can I Take the Train from Toronto to Niagara Falls?
Yes, Via Rail offers direct daily service between Toronto and Niagara Falls. There are two trains daily and an adult return ticket will cost around $55-$75 depending on how far you book in advance. Keep in mind that the evening return trip to Toronto is a train that originates in New York City, so it often runs late.
Go Transit also offers a combination train and bus route between Toronto and Niagara Falls. You'll need to transfer to a bus in Burlington and then continue onto Niagara Falls.
In the summer months, from May to Labour Day in September, Go Transit runs a convenient direct train service from Union Station to the Niagara Falls train station. It operates on Fridays, Saturdays and Sundays, as well as holidays only. There is one return trip on Friday evenings and three return trips on Saturdays, Sundays and Holidays.
It's important to note that the train station is in old Niagara Falls, which is about a five minute drive from the Falls themselves. So, when you arrive at the Niagara Falls Train Station, you'll need to go a little bit further to get to the Falls. It's a short taxi ride (which should cost around $10-$15 CAD), or you can use the bus route 104.
Is There a Toronto to Niagara Falls Bus?
You can take the bus from both Megabus and Greyhound to Niagara Falls. They are both direct buses with no transfers and the prices for tickets range from $14-$30 CAD. The journey takes around 1.5-2.5 hours depending on the number of stops.
Both the Megabus and Greyhound leave every day, multiple times per day. To get a cheaper bus ride, book online in advance.
There are also shuttle buses between Toronto and Niagara Falls and coming back the other way from Niagara Falls to Toronto. They cost more than public transit, but you're paying extra for the comfort and convenience. You might even get picked up at your hotel in Toronto and delivered to the door of your hotel in Niagara Falls. Here's an example of a shuttle bus service.

Can I Drive to Niagara Falls?
If you rent a car in Toronto, you can drive to Niagara Falls during your visit. This gives you the advantage of being able to travel on your own schedule and make stops along the way. The trip will take about an hour and a half to two hours.
The most direct route is along the Queen Elizabeth Highway, alongside Lake Ontario. Keep in mind that this is a major commuter route, so there will be heavy traffic on this road during rush hour. The peak traffic will be going into the city in the mornings until 9am and out of the city between 3 and 7pm. Keep this in mind and try to travel outside of these times, if possible.
You may want to allow time to stop in Burlington along the way. It's less than an hour from Toronto and it has a beautiful Royal Botanical Gardens that are worth a visit. You can also visit the town of Jordan along the way, home to the well known local winery Cave Springs.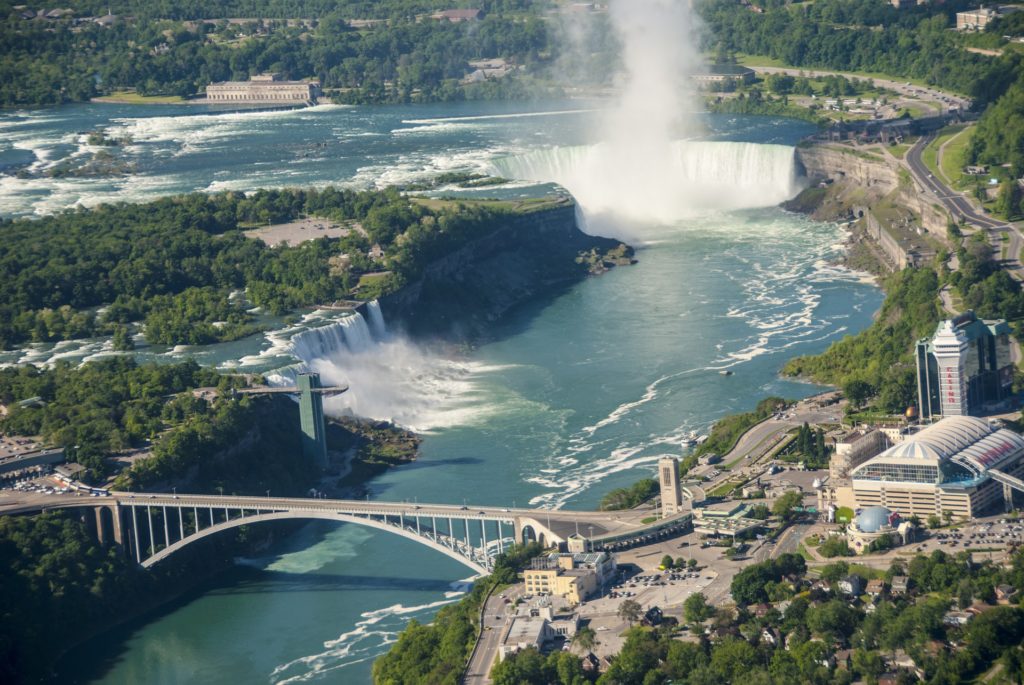 Niagara Falls Tours from Toronto
Another option is to hop on a group day tour to Niagara Falls. There are several companies that offer these tours, including Gray Line, Niagara Tours, North Star Tours, Royal Tours of Niagara Falls Canada, Toronto Tours, Niagara Bus Tours and more.
These tours usually leave Toronto in the morning, take you to the falls for a few hours and then bring you back in the evening. They might include lunch or other activities as well – such as visits to the local wineries. If you aren't sure which tour is best for you, take a look at the reviews on Tripadvisor.
Taking a day tour might be a great option if you have a limited time in Toronto and you want to sit back and relax while someone else takes you to the highlights of the region.
No matter how you get there, it's absolutely worth visiting Niagara Falls on your visit to Toronto

Latest posts by delsuites
(see all)