When the Canadian weather gets cold, wet, and slushy, thoughts immediately scurry to soft white sands and eight hours of sunlight. Sunny getaways and island escapes vary from year to year. If you have a case of cabin fever in your temporary housing North York or Toronto, it's time for an escape or some R&R this winter. Our sunny getaways and island escapes for 2015 are based on destinations that are a mix of those destinations that have been newsworthy but also offer the luxury you're looking for on a vacation.
Cuba
Cuba may be at the top of your list for that cheap and cheerful vacation since President Barack Obama's decision to lift American trade embargo against Cuba, after 54 years. Though American citizens can't legally travel to Cuba yet, it could happen sooner than you think. Whether it's an all-inclusive getaway to Varadero, a historic trip to Havana, or less-visited spots like Cayo Santa Maria, Cayo Coco, Trinidad, or Holguin,or tour more parts of the island via cruise, Cuba is having its moment. It's your moment to bask in those beach glory days.
Bermuda
No longer a site for just the rich and famous, 2015 is the start of Bermuda's moment in the sun. In October of 2015, it will host the America's Cup World Series, the first stage of competition in the America's Cup, a racing circuit which features the best sailors in the world. This competition is the lead up to when they host the America's Cup in 2017. Though known for its sailing and its famous beaches, Bermuda needs to be known for its scenes in both food and culture. Check out one of the best collections of Bermudian art at Masterworks (and take that instagram-worthy photo of the John Lennon statue just outside); concoct your own scent at the perfumery; or take a bike ride (tour or solo) the historic Railway trail. If you can't make it for the America's cup, fly into town for the Rugby Classic in November. Whether you're having a high end meal at local favourite, Port O Call, on bustling Front Street or just want a great sandwich like the sky-high fish-stacked one on raisin bread at Art Mel's Spicy Dicy, you won't go hungry!
Your retreat? Rosewood Hotel's Tucker's Point, complete with its own beautiful artwork at the Point restaurant; some of Bermuda's best golf courses, and its own beach. That is if you're not ordering room service in one of its spacious suites with a view of the Atlantic Ocean outside of your balcony.
St. Lucia
Listed as one of Lonely Planet's top ten countries to visit in 2015, it's our pick because it offers a mix of a luxury all-inclusive vacation and an adventurous element with its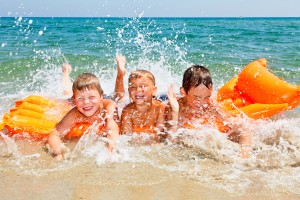 scenic trails on lush landscapes. Whether you opt to stay at themed luxe resorts like the BodyHoliday by Le Sport or Boucan's stunner, Hotel Chocolat, they're both great resorts alongside activities like hiking the Tet Paul Scenic Trail or the adventurous trails of the iconic Pitons. Taking a family vacation? Coconut Bay is a great option with its waterpark and paintball facilities. Bonus: there is an adults only section to the side of the resort.
Haiti
It has been five years since an earthquake rocked Haiti but it doesn't still have to be off your radar. The western Caribbean island is set for a rebirth from the ashes. For you, the traveler, try a tour from G Adventures. Their cultural and sustainable tours will enable you to visit a foundation teaching arts to at-risk youth, learn about Vodou culture, savour creole cuisine and visit Basin-Bleu in Jacmel. If you wanted to partake in the voluntourism trend and help those still affected by the earthquake, there are a few organizations out there making that happen. Yoga Ventures has two retreats in July and October that will offer a mix of volunteering with daily yoga. Elevate Destinations combines a beach vacation with a volunteer trip and works with the Edem Foundation – a non-profit supporting the education of children in Haiti and the development of economic activities in Haiti by working with local communities and offering youth leadership programs. Not into volunteering? You can stay at a number of new hotels that have opened up in Port-Au-Prince recently like the Marriott hotel to open early in 2015.
Indonesia
If you've been looking to go somewhere further afield, Indonesia may be your ticket to an island escape. Opt for popular Bali with its luxurious infinity pools and rice paddy fields, or booming Jakarta (Fairmont, Raffles, and the St. Regis are opening properties here in the next year). Our picks in Bali include the Chedi chain of resorts or the secluded One Eleven Hotel, offers pools and private yoga in each villa. Yoga retreats are equally as popular for the R&R you need away from your regular routine. Desa Seni and The Yoga Barn in conjunction with Bali Spirit offer holistic yoga programs and accommodations.
We hope our 2015 island escapes have given you inspiration for your 2015 winter vacation. Where are some of your favourite sunny getaways and island escapes?

Latest posts by delsuites
(see all)