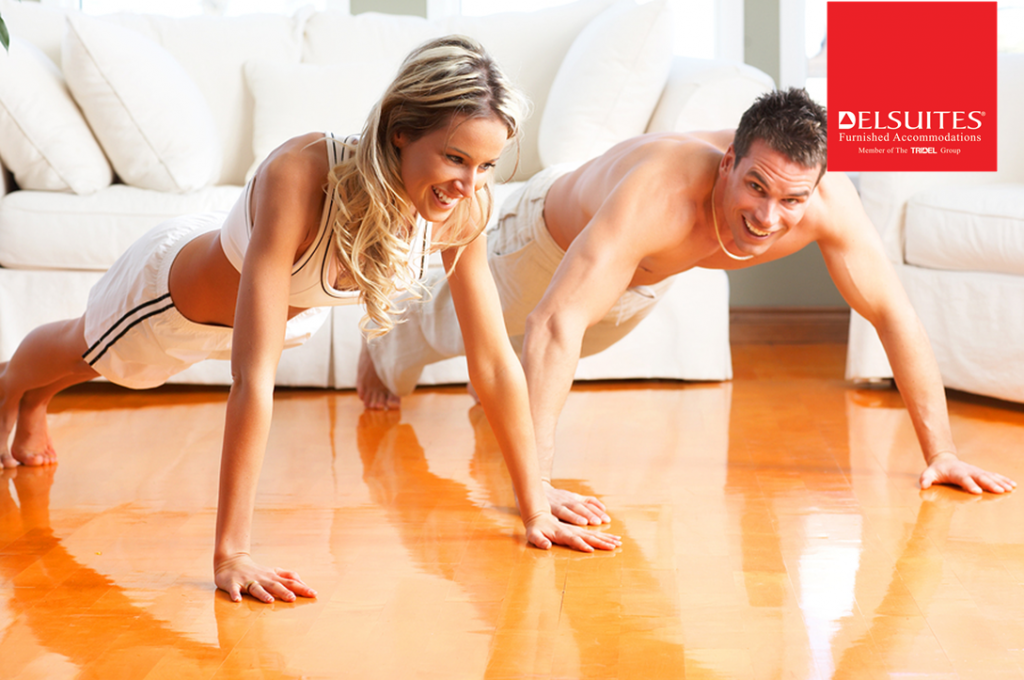 It can be difficult to stay in shape when you are on vacation or travelling for work, as you are jostled out of your healthy at home routine. You might end up eating out more and having a few drinks – which often means that you return home with a few pounds under your belt as a souvenir. In addition to using the fitness facilities at your furnished apartment in Toronto, you can also do these great at home workout exercises anywhere so that you can keep in shape while on the go:
1. Superman
This exercise will strengthen your core while providing you with a great stretch. Start by lying on your stomach on a mat or on the floor with your legs outstretched behind you. Your toes will be pointed toward the wall and your neck should be relaxed. Exhale while you squeeze your core muscles and reach both legs up a few inches off the floor. While your legs are lifting, float both arms a few inches off the floor as well. Hold for 20 seconds, then slowly release.
2. Push Ups
This classic exercise is great for working the upper body, but it also works to strengthen your core as well.
3. Prisoner Squats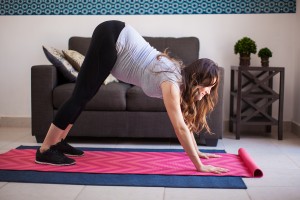 These are basic squats, except with your arms up and your fingers laced behind your head. The hand position forces you to keep your chest upright and works your core muscles.
4. Downward Facing Dog
This yoga position gives you a great stretch, as well as strengthening your abs and back.
5. Front Plank
This exercise is harder than it looks. Lie on your stomach and then raise your body up on your elbows and toes, keeping your torso and legs stiff and strong. Your body should be as straight as a plank and the only thing touching the ground should be your forearms and toes. Hold this position for as long as you can, breathing deeply, then lower yourself back to the floor.
6. Tuck Jump
Stand with your knees slightly bent and then jump up as high as possible, bringing your knees to your chest while you are in the air while extending your arms straight out.
7. Mountain Climber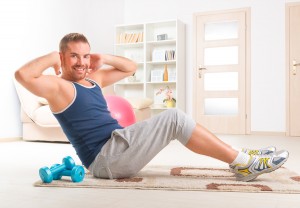 Start on your hands and knees and bring your left foot under your chest while straightening your right leg. Keep your hands pressed to the ground and jump and switch legs.
8. Burpees
One of the most difficult but effective full body exercises. Start with a squat position and put your hands on the floor. Jump your feet back into a push-up position. As soon as you have completed one push-up, jump your feet back to the squat position. Leap up into the air as high as you can before you squat and repeat.
9. Wall Sit
Slide your back down the wall until your thighs are parallel to the ground and stay that way, like you are sitting on an invisible chair. It won't take long to feel the burn.
10. Side Plank
From the plank position, roll to the side and come up on one of your elbows and the corresponding foot. Hold it for 30 seconds.
The advantage of staying at one of our furnished condos is that all buildings have on-site fitness centres, including swimming pools, cardio machines and much more. With the on-site recreational centres and these 10 quick at home workout exercises, you can keep a healthy routine without having to worry about the weather or go out to find a gym in an unfamiliar city.
Latest posts by delsuitesadmin
(see all)