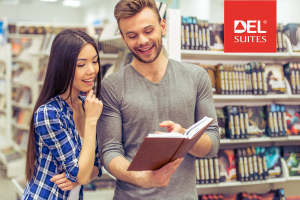 Toronto has plenty for literature lovers to discover. After all, some of the most well known Canadian novels are set within this city – including works by Michael Ondaatje, Timothy Findley, Robertson Davies and Margaret Atwood. If you are a bibliophile, you'll find many fascination bookshops Toronto spots.
This quirky and arcane used bookshops Toronto is a treasure trove of the weird and wonderful. You'll find lots of beautiful, strange and fascinating books there and you'll want to get lost for hours perusing the shelves. If you can't decide on a book, you can put a toonie in the famous Biblio-Mat machine, which is a custom-designed vending machine that dispenses a random book.
Named after the French novelist and playwright, Balzac's is the ultimate place to get your coffee and reading fix. It is located within the Toronto Reference Library – a huge storehouse of knowledge within stacks and stacks of tomes. The largest library in the city, it is known for it's modern architecture and intriguing free event schedule. It is also home to one of the largest collections in the world dedicated to Sir Arthur Conan Doyle's life and work.
This gorgeous bookshop is located on Queen Street, across from Trinity Bellwoods Park. You'll gasp with delight as you enter and are greeted by the shelved packed with fiction, art books, design books and more. Check out the front of the store, where you will be greeted by the staff's latest selection for books on exciting hot topics. Type Books went viral with this amazing video, which shows what happens in a bookstore at night when the lights go out.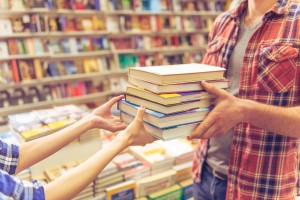 If you have had a full day of exploring Toronto's literary side and you are in the mood for a drink to cap off the evening – why not head to this swanky bar in the Royal York Hotel? The cocktails are named after famous writers, so you could have a Margaret Atwood Margarita or an Alice Munro Rosemary Martini.
Another choice for a drink spot is Hemingway's, named after the famous novelist who one lived in Toronto as a young man. Unfortunately, Ernest really didn't like 1920s Toronto – which is why he moved to Paris, which he found to be much more of a "moveable feast." Hemingways is known as one of the best bars in Yorkville. Owner Martin McSkimming is from New Zealand and serves a menu of world-renowned New Zealand lamb and several excellent Kiwi wines.
These are just a few of the many places that book lovers will adore in Toronto. You could also check out A Novel Spot, Another Story, Acadia and many more!
Latest posts by delsuitesadmin
(see all)