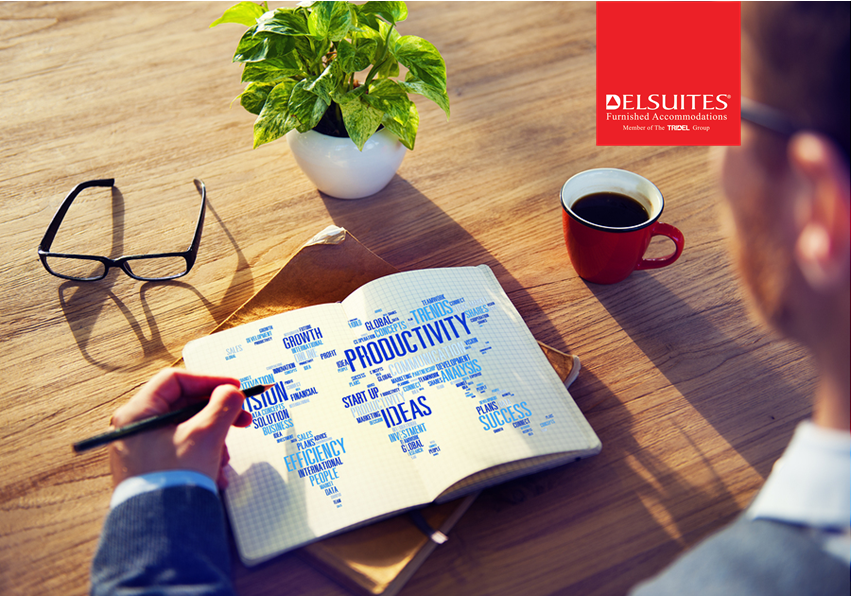 Productivity thrives on routine. Many people find themselves most productive when they set up a routine, good habits and a working environment that benefits them. However, when you are on a business trip and you are in different surroundings it can be difficult to stay productive.
Here are some tips that you can keep in mind to be more productive on a business trip:
Business Trip Productivity Tips
Make sure that you have some work that you can do without being connected to the internet, such as emails you can write offline or word documents you can work on. If you are stuck in transit without a Wifi connection you can still be getting work done.
If you have established routines at home that help you stay productive, such as waking up at a certain time and getting energized with a session of yoga, bring these routines with you on your business trip whenever possible. These simple things will remind you of a normal working day and will help you to become more productive no matter where you are. Whether you are staying in a furnished rental in Toronto or apartment, the building amenities are available for you to take advantage of including fitness centres or swimming pools.
Being productive starts with planning, so create a list of goals and objectives you intend to accomplish during your trip and then break them down into smaller and more manageable tasks.
Get as much sleep as possible. You are much less productive when you are tired, so turn off the television and get to bed early when you can.
Make the most of the hidden pockets of time that happen throughout your business trip. You can listen to informative podcasts while waiting for the train, get some work done on your laptop while in transit and make business calls while walking from your furnished apartment to the conference centre.
Use apps to your advantage. There are many apps that are designed to help busy people be more productive and get more done. Here are a few that you might find useful.
Think strategically about keeping your electronics charged up, so that you won't have to waste any valuable working time because you don't have any battery left. Many airports and train stations will have plugs and charging stations, so keep up your battery topped up when you can.
Staying in a furnished apartment rather than a hotel can really help you be more productive. You'll have a separate working and sleeping area, so you won't have to sit on the bed while you work like you would in a small hotel room.
Being efficient on the road can be a challenge, but with these tips you can be in your most efficient state when you are on a business trip and get lots of work done!
Latest posts by delsuitesadmin
(see all)