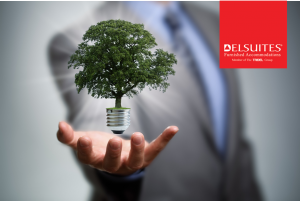 Energy costs have been rising dramatically and there seems to be no relief in sight. If you live or rent a condo or even a furnished condo in Toronto, here are some tips that will help you conserve energy in your condo, which will be beneficial for your budget as well as for the environment.
Cut Down on Air Leakage
Take a look at your condo and see if there are any areas where air can escape, such as through holes and cracks in the windows, floors and ceilings. A condo with drafts will require more energy to heat and keep cool, which really adds up. If you seal up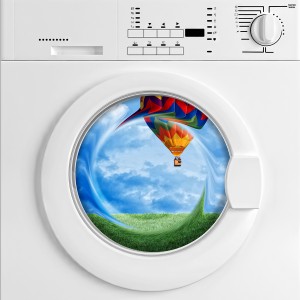 these cracks you will see a difference in your energy usage.
Use Energy Efficient Appliances
When you are choosing appliances for your condo, make sure that you look for energy efficient ones that are designed to use less electricity and water. They might be slightly more expensive at the outset, but the savings that they offer you over their lifespan are significant. DelSuites furnished apartments are located in Tridel Built Buildings and some of these new buildings are equipped with Energy Star high efficiency front loading dishwashers and washers.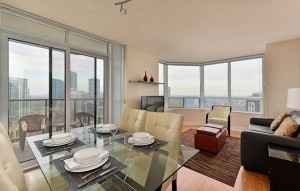 Take Advantage of the Sun
The sun offers you free lighting and heating, so take advantage of it as much as possible. Open the curtains on a sunny winter day on all south, west and east facing windows in order to warm up your apartment without having to turn up the heater. Don't turn the lights on during the day when you can open the window instead.
Reduce Laundry Loads
Another way to conserve energy in your condo is to cut down on the number of individual loads of laundry you wash by filling the washer completely. However, avoid overloading the washer because the clothes might not get fully clean and will take longer to get dry. Consider hanging up clothes to dry if the weather is nice rather than using the dryer, as it uses a lot of energy.
Turn off Electronics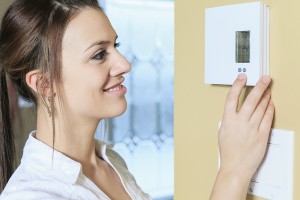 Many appliances and electronics have a "standby" mode which means that they use energy even when they are not being used. Anyhousehold device with a memory, remote control, clock or timer is using power even when its off – including the microwave and television. It might be a very small amount, but when you have a number of these appliances in your condo they can really add up. Set up a power bar that allows you to deactivate all of your electronic equipment with the flick of one switch so that you can cut down on phantom electricity use.
These are just a few simple ways that you can conserve energy in your condo. They are only small measures, but together they can add up significantly less energy used so that you can save money and protect the environment.
Latest posts by delsuitesadmin (see all)