Our resident blogger, Natalie Taylor, recently stayed at our 300 Front Street West location. Here's what she had to say.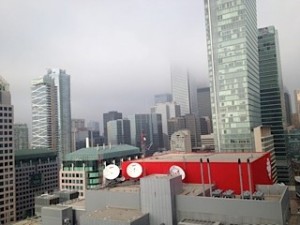 You never know when you're going to need an apartment until you least expect it. In my case, my home is undergoing renovations and I needed an alternative place to stay. Luckily, DelSuites invited me to stay at their newest furnished rental at 300 Front Street West. Before I got into the building, I was impressed by its location. Located at the corner of Front and John, the condominium is across from CBC's headquarters, a ten minute walk from Union Station and five minutes from the trendy King Street West strip at King and Spadina. On the weekends, you can walk over to the Rogers Centre for a game or a concert; or walk over to the ferry terminal to explore the Toronto Islands. In the detailed booklet provided on the living room table, there are recommendations for local activities, services, and how-to's for TV repair, garbage instructions, etc.
The building is very secure and you need key access to get into the building. The concierges are friendly, helpful, and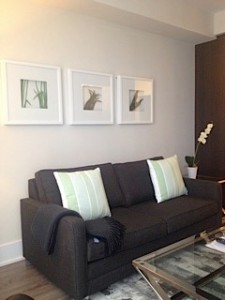 available 24 hours. Once I got into the apartment, I immediately felt at home. Everything is not only furnished but nicely decorated in a modern and minimalist style and it all felt so comfortable. From the modern artwork and orchid in the living room to the rock and grass filled glass vases in the dining room, I have gotten some inspiration to decorate my renovated space at home. The separated desk area was ideal to get work done. After a long day, it was nice to kick back and watch the Food Network under a provided blanket on the sophisticated yet soft couch. The bedroom is a private oasis and also has a TV if you want to watch a movie late night under the covers. One of my favourite features in the bedroom was the option to open up the screened lower window to the balcony for fresh air. Usually most condos are enclosed glass cases so this was a welcome attribute!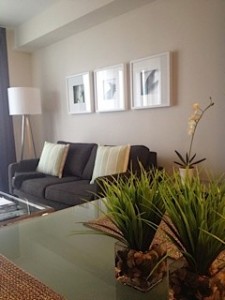 I was surprised at all of the little details that were provided in the kitchen, especially. Utensils, plates, cups, bowls, baking items (mixers, baking sheets), a kettle, bowls, dish soap, dishwashing detergent, and towels are all available so you don't have to worry about buying cooking equipment. I didn't have to bring anything with me! I think my favourite feature had to be the red magnetic cabinets that close on their own. All you have to do is push the door.
The bathroom was just as relaxing. An advanced shower head has a massage feature, and there are plenty of extras like towels and toilet paper so you don't have to call on housekeeping (which is provided once a week). DelSuites even provides you with a shower kit filled with shampoo, conditioner, shower gel, soaps, and body lotion. They even provide a bathrobe for you in the bedroom closet, which I now want to purchase for myself. In that sense, it felt close to staying in the hotel. That said, you don't have to pay for any laundry service because there is a washer and dryer (with a starter laundry detergent kit provided) available for your use right beside the bedroom.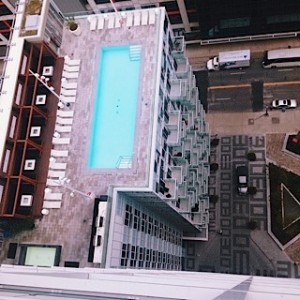 The balcony was also another favourite feature of mine. Not only could I get a birds eye view of the pool area but I was face to face with Toronto's icon, the CN Tower. As a local, there's something that makes me feel proud about that. The recreation area, complete with a pool, cabana, billiards area, and fully equipped fitness area (including yoga and spinning rooms) added to the impressiveness of my stay.
DelSuites furnished apartments and suite rentals took care of all of the small details. I have never felt more at home at 300 Front Street West! Whether you're in town for business, or are displaced and covered by insurance, they are their to take care your living needs.

Latest posts by delsuites
(see all)